Escaped convict turned gun on self after killing officer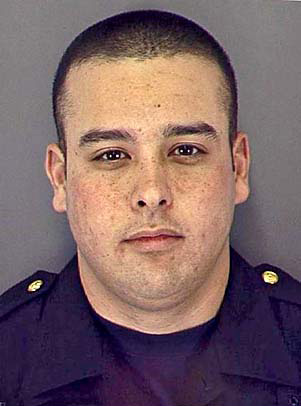 San Francisco Police Officer Bryan Tuvera, RIP.
Photo courtesy SFPD Public Affairs
By Brent Begin

May 2, 2007
A San Francisco medical examiner's investigation has confirmed speculation that the killer of a San Francisco police officer turned his gun on himself, contradicting original reports that police killed him.
Marlon Ruff, a 33-year-old San Bruno man, used the same gun to kill San Francisco police Officer Bryan Tuvera in a Sunset district garage two days before Christmas last year as he used to take his own life, according to the medical examiner's report.
Police originally reported that an unnamed officer who followed Tuvera into the garage had shot Ruff in the head.
The shooting occurred at about 8:15 p.m. after police followed Ruff into the garage of an occupied home in the 1600 block of 25th Avenue.
According to police, after leading Tuvera up to the home, Ruff kicked down a side door to the home's garage and ran inside. When Tuvera followed Ruff through the broken door, Ruff opened fire on him, fatally striking Tuvera, 28, in the head.
Another officer came through the door and opened fire, but it was the bullet from Ruff's gun that led to Ruff's death. He was pronounced dead at the scene.
According to state prison officials, Ruff was wanted for escaping a minimum-security work camp in Humboldt County. He was rated a low security risk even though he was convicted of a violent armored car robbery.
Copyright © 2007 by Bay City News, Inc. -- Republication, Rebroadcast or any other Reuse without the express written consent of Bay City News, Inc. is prohibited.
####