Bush administration wants to make US nuclear stockpile "smaller and more effective"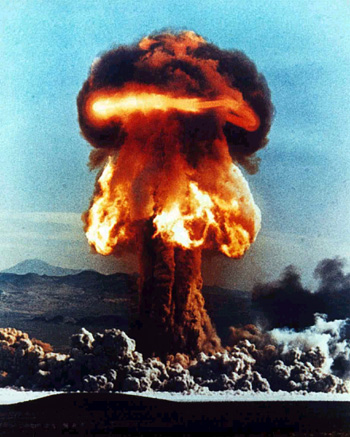 Photo courtesy sightsonics.cf.huffingtonpost.com
By Jeff Shuttleworth, Bay City News Service

October 19, 2006
President Bush has made a commitment to reduce the nation's nuclear weapons stockpile by 2012 to the lowest level since the Eisenhower administration in the 1950s, a top U.S. Energy Department official said today.
Thomas D'Agostino, the deputy administrator for defense programs at the U.S. National Nuclear Security Administration, said at a news conference in Washington, D.C., that the Bush administration wants to make the country's nuclear weapons deterrent "smaller and more effective.''
D'Agostino said federal officials want to dismantle nuclear weapons in a significant and speedy manner in order to "get us away from the Cold War nuclear weapons complex to a smaller and more efficient process.''
D'Agostino said that while the government will be downsizing its nuclear weapons program, there aren't any plans for closing the Lawrence Livermore National Laboratory.
He said an environmental impact statement released today for the transformation and moderation of the nuclear weapons complex "doesn't close the Livermore Lab.'' D'Agostino said, "I want to be clear about that.''
The public will have 90 days to comment on the environmental impact. The government will hold 17 public hearings in 12 locations.
In the greater Bay Area, there will be hearings in Livermore and Tracy on Dec. 12.
Established by Congress in 2000, the National Nuclear Security Administration is a semi-autonomous agency within the Energy Department that's responsible for enhancing national security through the military application of nuclear science.
The NNSA reports it maintains and enhances the safety, security, reliability and performance of the U.S. nuclear weapons stockpile without nuclear testing.
The agency also says it works to reduce global danger from weapons of mass destruction, provides the U.S. Navy with safe and effective nuclear propulsion and responds to nuclear and radiological emergencies in the U.S. and abroad.
Copyright © 2006 by Bay City News, Inc. -- Republication, Rebroadcast or any other Reuse without the express written consent of Bay City News, Inc. is prohibited.

####