Bay Area man sentenced for sex with child
in Cambodia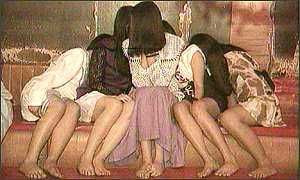 By Julia Cheever, Bay City News Service

April 12, 2007
SAN FRANCISCO (BCN) - A Bay Area man has been sentenced in federal court in San Francisco to five years and four months in prison for having sex with a 13-year-old girl in Cambodia.
Michael Koklich, 50, was sentenced by U.S. District Judge Vaughn Walker on Tuesday.
The sentence was agreed to in a plea bargain in which Koklich pleaded guilty in December to one count of violating a U.S. law that makes it a crime to engage in so-called "sexual tourism" involving children. The charge to which he pleaded was traveling to a foreign country and having sex with a minor.
Koklich was originally charged with a second count of engaging in sex with an 11-year-old girl, but that count was dropped as part of the agreement.
The judge ordered Koklich to pay $5,000 in restitution to each girl. Koklich will also be required to register as a sex offender and be under supervised release for five years after completing his prison term.
Koklich and his attorneys have previously said he lived eight to nine months per year in Cambodia in recent years and during the summers sold Cambodian handicrafts at Bay area stores and festivals.
When in the Bay Area, he lived in a recreational vehicle parked at various locations including Santa Rosa, prosecutors said.
Koklich's defense attorney, Assistant Federal Public Defender Josh Cohen, said in a sentencing memorandum, "This was a tremendous mistake that Mr. Koklich very much regrets and for which he will pay dearly."
U.S. Attorney Scott Schools said Koklich was initially investigated by officials of a French non-governmental agency called Action Pour Les Enfants, or APLE, based in Cambodia.
Koklich was arrested on Feb. 17, 2006, after APLE investigators and Cambodian police saw the 13-year-old and 11-year-old leave his apartment in Phnom Penh. He was extradited to the United States in April 2006.
After being arrested, Koklich admitted to having sex with the two girls on multiple occasions and also to previously having had sex with child prostitutes in a brothel in Phnom Penh, according to a sentencing memorandum filed by prosecutors.
Schools said Koklich also admitted to writing to his adult girlfriend in Cambodia in November 2006, asking her to bribe witnesses, including the victims, not to testify against him. The attempted bribery was a factor in the calculation of his sentence under federal sentencing guidelines.
Copyright © 2007 by Bay City News, Inc. -- Republication, Rebroadcast or any other Reuse without the express written consent of Bay City News, Inc. is prohibited.
####