Federal court ruling favors polluters
Conservation group suit denied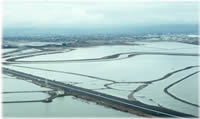 Don Edwards San Francisco Bay National Wildlife Refuge
Photo courtesy
U.S. Fish and Wildlife Service
By Julia Cheever, Bay City News Service

March 8, 2007
SAN FRANCISCO (BCN) - A federal appeals court ruled today that a conservation group can't sue Cargill Salt Division for alleged pollution of a rainwater pond within a wildlife refuge in the southern part of San Francisco Bay.
The 9th U.S. Circuit Court of Appeals in San Francisco said the pond wasn't covered by the U.S. Clean Water Act because it wasn't a navigable river or a wetland.
Cargill was allowed to keep a 17-acre waste containment area that includes the pond when the Don Edwards San Francisco Bay Wildlife Refuge was created in the southern part of the bay. The rainwater pond is separated from the nearby Mowry Slough by an earthen levee.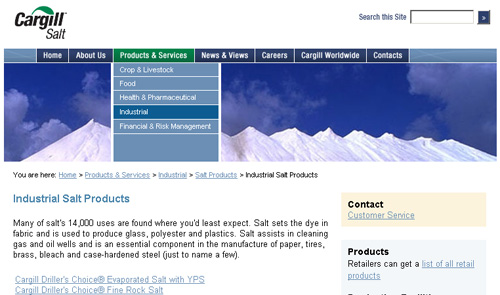 Screenshot courtesy Cargill Salt
John Barg, a lawyer for Cargill, said the company never put wastes that sometimes accumulated in the pond into the bay, but instead sent the wastewater back to an evaporation pond.
But San Francisco Baykeeper, a citizens' group dedicated to protecting the bay, argued in a lawsuit that the pond was subject to the Clean Water Act because it was next to the slough.
The law requires a federal permit for discharging pollution into navigable waters, which have been defined to include adjacent wetlands as well as navigable waters.
In today's ruling, a three-judge panel of the appeals court said that definition could not be expanded to include freestanding ponds next to navigable waters.
It said the U.S. Environmental Protection Agency and Army Corps of Engineers were entitled to limit the scope of the law to navigable waters and adjacent wetlands.
The panel overturned a ruling in which U.S. District Judge Susan Illston of San Francisco said in 2003 that the same characteristics that justify protection of adjacent wetlands apply to adjacent ponds as well.
Daniel Purcell, a lawyer for San Francisco Baykeeper, said the group has not decided whether to appeal to an expanded panel of the circuit court.
Copyright © 2007 by Bay City News, Inc. -- Republication, Rebroadcast or any other Reuse without the express written consent of Bay City News, Inc. is prohibited.
####