Handyman arraigned
on charges he murdered Chauncey Bailey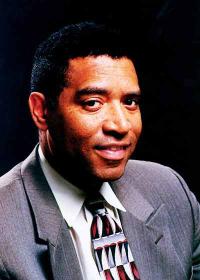 Editor Chauncey Bailey was gunned down
in cold blood Thursday.
Photo courtesy Oakland Tribune
By Jeff Shuttleworth
August 7, 2007
A handyman for Your Black Muslim Bakery in Oakland was arraigned today on charges that he murdered veteran journalist Chauncey Bailey last Thursday.
At a brief hearing in Alameda Superior Court, Judge Morris Beatus told Devaughndre Broussard, 19, that he's also been charged with discharging a firearm and inflicting great bodily injury on Bailey, 57, in a shooting near the intersection of 14th and Alice streets in Oakland shortly before 7:30 a.m. Thursday.
In addition, Beatus told Broussard that he's being charged with having a prior assault with a deadly weapon conviction for an incident in San Francisco and with being an ex-felon in possession of a firearm.
Dressed in red jail clothes, Broussard told Beatus that he wants to hire his own attorney and doesn't want to be referred to the Public Defenders Office.
Beatus ordered that Broussard be held in custody without bail until he returns to court Monday to finalize his legal representation and possibly enter a plea.
Copyright © 2007 by Bay City News, Inc. -- Republication, Rebroadcast or any other Reuse without the express written consent of Bay City News, Inc. is prohibited.
####