Bailey remembered as fearless and uncompromising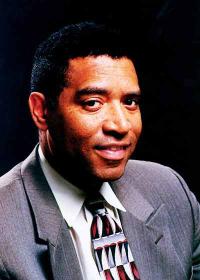 Slain journalist Chauncey Bailey
was remembered today at a memorial service in Oakland.
Photo courtesy Oakland Tribune
By Jeff Shuttleworth
August 8, 2007
Slain journalist Chauncey Bailey was remembered today at an overflow memorial service attended by more than 500 people as a hard-working, fearless and uncompromising reporter serving the black community in Oakland.
Bailey, 57, was walking from his home near Lake Merritt to the Oakland Post at 405 14th St. when he was shot multiple times and killed near the corner of 14th and Alice streets shortly before 7:30 a.m. last Thursday.
Oakland police say Devaughndre Broussard, a handyman for the Your Black Muslim Bakery in Oakland, admitted that he killed Bailey and said he did so because he thought Bailey had "slandered" the bakery in several articles.
Father Jay Mathews, pastor of St. Benedict's Church, which was the church that Bailey attended and the site of today's service, described the journalist as "an intelligent, articulate, often-uncompromising black man who said what he thought."
Referring to the apparent targeted killing of Bailey, Mathews said, "We see what happened to those who stand up for right and just and good."
Paul Cobb, the Oakland Post's publisher, drew a standing ovation from the packed church when he vowed, "The world will know what Chauncey and I were working on" before Bailey was gunned down, even though he said the newspaper was still receiving threats as recently as yesterday.
Cobb said, "I am asking all of you, especially the news media, to donate some time to help us complete his (Bailey's) body of work."
Cobb added that just as the late soul singer James Brown had a reputation as being the hardest-working man in show business, Bailey was "the hardest-working man in the news media" because he worked in television and for other newspapers in addition to his day jobs at the Oakland Tribune and later at the Oakland Post.
Oakland Mayor Ron Dellums also promised that "we won't be cowered by fear" in addressing the issues that Bailey was investigating when he was killed.
Referring to a recent surge in homicides in Oakland, Dellums said, "This madness must end and together we must do it."
He said that as mayor, "I am diminished by every death" in the city.
Among those attending today were Rep. Barbara Lee, D-Oakland, Oakland City Council President Ignacio De La Fuente, City Council members Larry Reid and Nancy Kernighan, Alameda County Supervisor Keith Carson, Alameda County Administrator Susan Muranishi, San Francisco District Attorney Kamala Harris and BART interim general manager Dorothy Dugger.
Copyright © 2007 by Bay City News, Inc. -- Republication, Rebroadcast or any other Reuse without the express written consent of Bay City News, Inc. is prohibited.
####