Chavez' involment in voting machine company "baseless"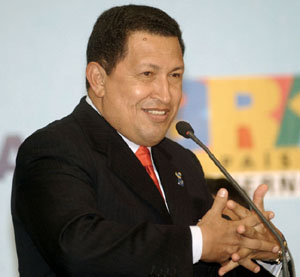 President Hugo Chavez
Photo courtesy Wikipedia.com
By Jeff Shuttleworth, Bay City News Service
October 31, 2006
Rumors that an Oakland company that makes touch-screen voting machines for California and 15 other states is linked to Venezuelan President Hugo Chavez are baseless, the head of the company's parent organization said yesterday.
Antonio Mugica, the president of Smartmatic Corp. of Boca Raton, Fla., which bought Sequoia Voting Systems Inc. of Oakland in March of 2005, said, "We are definitely concerned about allegations which are utterly false."
Speaking at a news conference in Washington, D.C., Mugica said, "There is absolutely no foreign government ownership or control" of Smartmatic, although he and the company's other two owners are Venezuelan.
Mugica said Smartmatic asked the Committee on Foreign Investment in the U.S. to investigate it and Sequoia so that the rumors of a connection with Chavez can be dispelled.
"We have voluntarily filed with CFIUS to put to rest the baseless but persistent rumors about our ownership," Mugica said. "We sought out a CFIUS review because we are confident it will clear the air so we can focus on what we do best -- making the world's most secure and auditable voting solutions."
Brookly McLaughlin, a spokeswoman for the Treasury Department, which oversees CFIUS, confirmed that Smartmatic officials have asked for a review but said she couldn't comment further because it's important that the process is conducted in a professional and nonpolitical manner.
CFIUS investigates foreign companies' acquisitions of American companies to see if there are any national security ramifications, she said.
Sequoia President Jack Blaine said the company, which is more than 100 years old, designs, sells and supports voting equipment, but voters shouldn't but be concerned about its Venezuelan ties because "we don't run elections or count votes."
Blaine said Sequoia, which has 123 employees in three locations, has been foreign owned for 24 years. He said it was owned by an Irish company for about 20 years and a British company for two years before Smartmatic bought it.
After months of study, the Alameda County Board of Supervisors voted 3-2 at a lengthy and emotional meeting on June 8 to approve a $13 million contract for Sequoia to provide a blended system of paper balloting and optical scanning for counting votes in the county.
The Nov. 7 election will be the first time the county conducts an election using Sequoia's equipment.
Board President Keith Carson cast one of the votes against Sequoia, but he said yesterday that the reason was his concerns about electronic voting machines in general, not the fact that Sequoia is foreign-owned.
Carson said the Board of Supervisors has a responsibility to the county's voters "to carry out elections so that their votes are safe and secure" and counted accurately.
He said the county registrar of voters office has tested Sequoia's equipment extensively to make sure that it's secure.
"I have to applaud the registrar's office for doing all they can" to ensure an accurate count, including "an extreme amount of attention on the physical security of the voting machines, such as having them shrink-wrapped and double-locked, Carson said.
Alameda County Counsel Richard Winnie said having a foreign-owned voting machine company "raises important public policy questions," but said that's beyond the county's scope and should be "vetted nationwide."
Winnie said, "Anything that shakes voters' confidence deserves discussion."
Ironically, Mugica, a dual Spanish-Venezuelan national, said he and the company's other two co-founders decided to get into the voting systems business in 2000 because they're based in Palm Beach County in Florida, which was at the center of ballot-counting controversies that marred that year's U.S. election.
"That had a huge impact on us and showed us there was a definite opportunity to provide good voting systems," Mugica said.
He said electronic voting technology "is a growing trend and is the only way to have free and fair elections."
Mugica said Smartmatic's vision is to be "the top global provider of electronic voting systems."
Copyright © 2006 by Bay City News, Inc. -- Republication, Rebroadcast or any other Reuse without the express written consent of Bay City News, Inc. is prohibited.

####