Food companies to help combat childhood obesity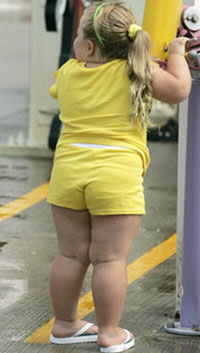 Photo courtesy HealthyBodyWeight.com
By Elizabeth Daley

July 18, 2007
As the rate of childhood obesity continues to rise, 11 national food producers announced today the adoption of new marketing practices that would change the ways they market certain foods to children.
"Childhood Obesity is an epidemic in this country, and the research clearly shows that junk food is a major part of the problem," said James Steyer, founder of Common Sense Media, a Bay Area organization dedicated to improving the impact of the media on children and families.
"By agreeing to restrict the kinds of foods that they will advertise to kids under 12, these companies are taking a responsible stand to help keep America's kids fit," Steyer said in a statement. "But make no mistake about it: there's a whole lot more work to be done. A lot of marketing to kids takes place on the Internet these days and that's an area where the food and beverage industry needs to take a hard look at its practices."
The rate of childhood obesity among kids 6 to 11 has tripled in America over the past 30 years. Today, nearly one in five children between the ages of 6 and 11 are obese, Common Sense reported.
The 11 companies - including PepsiCo. Inc., McDonald's, Kellogg Company, General Mills Inc., Kraft Inc., and the Hershey Company - all pledged to take part in the Council of Better Business Bureaus' Children's Food and Beverage Advertising Initiative.
The companies announced their commitment at a forum for childhood obesity in Washington D.C., jointly hosted by the Federal Trade Commission and the Department of Health and Human Services.
"We at Common Sense are very pleased to have played a part on the FCC's Obesity Task Force, which helped make today's announcement a reality," Steyer said.
"In terms of corporate responsibility, this is a huge step in the right direction.These companies recognize that their advertising practices have a direct impact on the health of America's kids, and they've stood up and begun to hold themselves accountable. We hope more food, beverage and media companies will follow their lead."
Copyright © 2007 by Bay City News, Inc. -- Republication, Rebroadcast or any other Reuse without the express written consent of Bay City News, Inc. is prohibited.
####