Bay Area lawmakers respond
to climate change report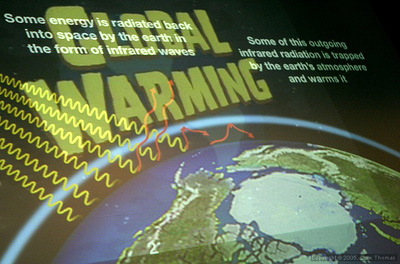 Photo(s) by Luke Thomas
By Ari Burack, Bay City News Service

Feburary 4, 2007
After the release of a report by an international climate change panel on Friday, Bay Area Democratic lawmakers issued statements acknowledging the human impact on global climate change and calling for new policies on pollution control and alternative energy development.
The report by Intergovernmental Panel on Climate Change, established in 1988 by the World Meteorological Association and the United Nations, stated that most of the observed increase in global temperatures in the last century is "very likely'' due to human influence from greenhouse gas emissions.
"The reality is that the warming cannot be stopped, but it can be slowed,'' U.S. Sen. Dianne Feinstein, D-San Francisco, said in a prepared statement.
Feinstein called for immediate steps "across all sectors of the economy'' to reduce greenhouse gas emissions.
Her recommendations included increases in car and truck fuel economy by 10 miles per gallon over 10 years; national incentive-based "cap-and-trade'' emissions limitation programs for the electricity and industrial sectors; increased supplies of low-carbon fuels such as biodiesel and E-85, an ethanol-gas blend; and a national energy efficiency program.
"The time to act is now,'' Feinstein said. "The very future of our planet hangs in the balance.''
U.S. Rep. Tom Lantos, D-San Mateo/San Francisco, added, "With this milestone report, it is quite clear to even those who doubted it before, that climate change is real -- and that humans are contributing to the problem.''
Without citing specific proposals, Lantos called for the introduction of "sound, pragmatic policies'' taking both environmental and economic concerns into account.
"The cost of doing nothing far outweighs the cost of tackling climate change head-on,'' Lantos said.
Copyright © 2007 by Bay City News, Inc. -- Republication, Rebroadcast or any other Reuse without the express written consent of Bay City News, Inc. is prohibited.

####