Clint Reilly, MediaNews and Hearst
settle antitrust lawsuit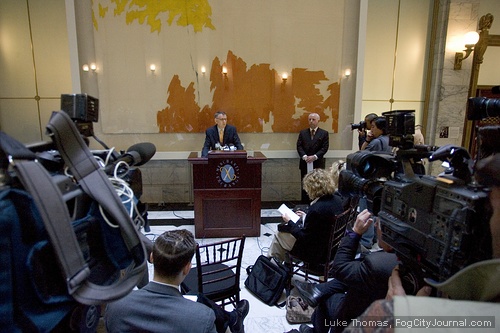 Clint Reilly and Attorney Joseph M. Alioto today announced a settlement in Reilly's antitrust lawsuit against MediaNews Group Inc. and Hearst Corp.
Photo(s) by Luke Thomas
By Julia Cheever

April 25, 2007
San Francisco businessman Clint Reilly today announced a settlement of an antitrust lawsuit he filed against the owner of 11 Bay Area daily newspapers and the owner of the San Francisco Chronicle.
Under the settlement, MediaNews Group Inc. and the Hearst Corp. will drop plans to cooperate in local distribution and national advertising and Internet advertising for their newspapers.
Reilly's attorney, Joseph M. Alioto, said, "Competition is now preserved in the Bay Area."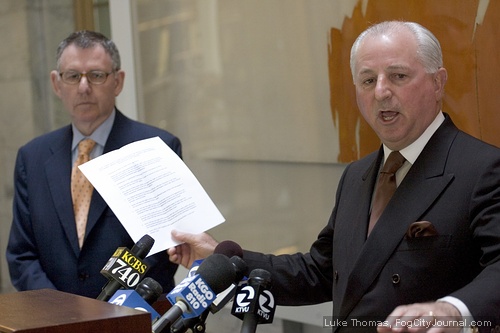 Jospeh Alioto (right)
MediaNews, based in Denver, owns 11 Bay Area newspapers, including the San Jose Mercury News, Oakland Tribune and Contra Costa Times. New York-based Hearst owns the San Francisco Chronicle.
Reilly's lawsuit, filed in federal court in San Francisco last year, claimed that deals in which MediaNews acquired the San Jose and Contra Costa papers last year violated antitrust laws by reducing competition and paving the way for higher prices, lower quality and less choice for readers.
Hearst participated in the transactions by providing MediaNews with $263 million in financing in exchange for a stake in the company. Alioto said that in another part of the settlement, Hearst and MediaNews will rescind Hearst's right to convert its stock to have any interest in the Bay Area newspapers owned by MediaNews.
Hearst spokesman Paul Luthringer said, "As part of the settlement, Hearst and MediaNews Group agreed to make certain changes to the terms of the transaction."
Luthringer said the two companies had already decided to make most of the changes during the course of an antitrust review by the U.S. Department of Justice.
"The changes have no material effect on Hearst's investment in the non-Bay Area assets of MediaNews Group. While the Department of Justice continues to review the transaction, Hearst is optimistic that its investment in MediaNews Group will be allowed to proceed," he said.
Reilly said the pact also allows him to serve on the editorial board of a MediaNews paper and to recommend private citizens to serve on the boards of the other Bay Area papers during the next three years.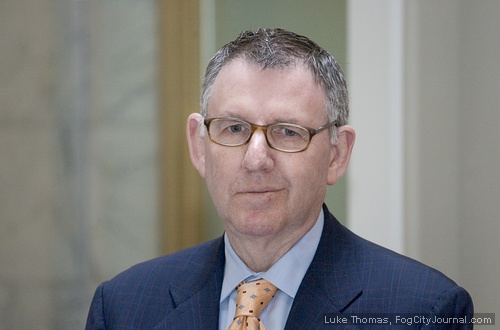 Clint Reilly
Reilly will also receive a quarter-page of space for personal comments in the local section of each local MediaNews paper once a week for three years.
He said that after three years, any new attempt to combine newspaper operations would be subject to a new Department of Justice review and an almost certain lawsuit from Reilly.
The two companies will also pay Reilly's legal fees, Alioto said.
A representative of MediaNews was not immediately available for comment.
In addition to the San Jose, Contra Costa County and Oakland papers, MediaNews owns the Hayward Daily Review, Alameda Times-Star, Fremont Argus, Tri-Valley Herald, San Mateo Times, Vacaville Reporter, Vallejo Times-Herald and Marin Independent Journal.
Reilly said those 11 newspapers and the San Francisco Chronicle are every paid circulation daily newspaper in the Bay Area.
The antitrust case had been scheduled to go to trial before U.S. District Judge Susan Illston in San Francisco on Monday.
Although the lawsuit originally sought to undo the acquisition transactions, Reilly said that he and his lawyers decided that demand would be unsuccessful and they would not pursue it during the trial.
Reilly, a real estate investor, former political consultant and former mayoral candidate, said his main goal was to preserve competition between the Chronicle and the other newspapers.
He said, "Locally, our Bay Area newspapers record the ongoing debate about almost every public issue facing us. They are critical to our way of life.
"I hope this lawsuit in 2007 will guarantee competition among newspapers for another generation in our city and the Bay Area," he said.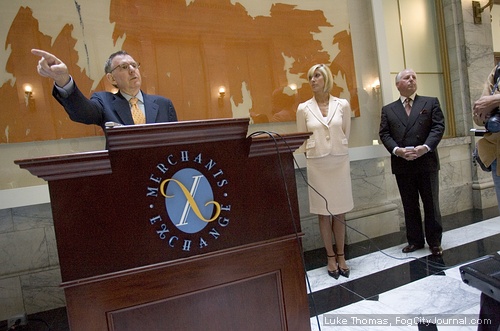 In November, Illston barred MediaNews and Hearst from going ahead with a plan to combine local distribution operations and national and Internet ad sales.
That ruling came after Reilly's lawyers during evidence gathering obtained a copy of an April 26, 2006, letter in which senior executives of the two companies agreed "negotiate in good faith" on agreements to combine national advertising and local distribution operations.
In 2000, Reilly filed another antitrust lawsuit seeking to block the sale of the Chronicle to Hearst. U.S. District Judge Vaughn Walker allowed the sale to proceed.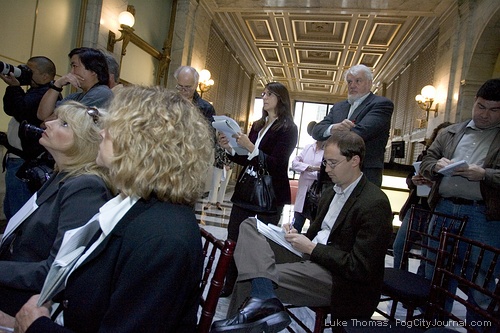 Copyright © 2007 by Bay City News, Inc. -- Republication, Rebroadcast or any other Reuse without the express written consent of Bay City News, Inc. is prohibited.
####