SJSU Poll: Clinton, Giuliani lead in California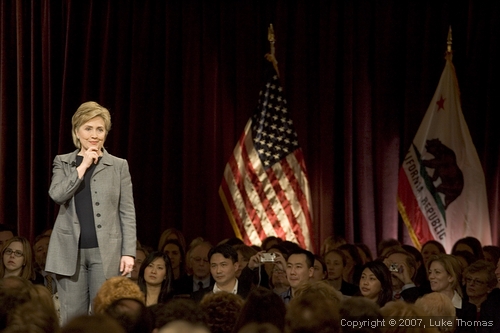 Presidential candidate Senator Hillary Clinton (D-NY).
Photo(s) by Luke Thomas
By Jason Bennert

June 25, 2007
A new poll released today by the Survey and Policy Research Institute at San Jose State University finds a pair of New Yorkers as the first choice among Californians for the Democratic and Republican presidential nominations.
On the Republican side, former New York City Mayor Rudy Giuliani leads the field with 25 percent of the vote followed by Sen. John McCain, R-Ariz., at 14 percent and former Mass. Gov. Mitt Romney at 5 percent.
Television actor and former Sen. Fred Thompson, who has not formally entered the race, is the second choice of California Republicans with 16 percent of the vote, according to the poll.
"Thompson make a very strong showing even though he hasn't even officially entered the race,'' according to poll director and SJSU political science professor Melinda Jackson.
Sen. Hillary Clinton, D- N.Y., is the more than two-to-one choice of Democratic primary voters with 37 percent of the vote. The 2004 Democratic vice presidential nominee John Edwards and Sen. Barack Obama, D-Ill., are in second place with 15 percent each, according to the poll.
Jackson said that Clinton's appeal among women voters in the state is responsible for her strong showing. Clinton is favored by 45 percent of female Democratic primary voters.
"Her strength among women is really amazing. It's hard to imagine that changing,'' Jackson said.
SPRI Director Phil Trounstine said Edwards, Obama or one of the other Democratic candidates need to begin appealing to women Democratic voters or the California Democratic primary will be a rout.
"If Edwards, Obama or any other candidate can peel women away from Clinton, the Democrats could have a competitive race in California but if Clinton keeps her grasp on women it's not going to be much of a contest here,'' Trounstine said.
The telephone poll of 1,000 California adults was conducted between June 18-22. Poll respondents were also asked about their views on the Iraq war and President George W. Bush. The results show that at this point both Bush and the war are unpopular with state voters.
"Two-thirds of voters here say it was not worth it going to war in Iraq, and that includes more than eight in 10 Democrats, more than six in 10 independents and fully half of the Republicans,'' Trounstine said.
The poll's margin of error is plus or minus 3.8 percent.
Copyright © 2007 by Bay City News, Inc. -- Republication, Rebroadcast or any other Reuse without the express written consent of Bay City News, Inc. is prohibited.
####