CodePink to Shutdown
San Francisco Federal Building
Speaker Refuses to Speak to Peace Community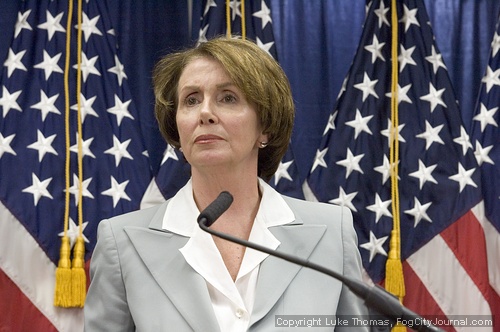 Speaker and San Francisco Congressional Representative Nancy Pelosi
refuses to speak with her anti-war constituents. A protest, organized by members of CodePink, will symbolically shutdown the San Francisco federal building tomorrow to draw attention to Pelosi's reluctance to answer questions about her tacit support for the war in Iraq.
Photo(s) by Luke Thomas
From CodePink
August 22, 2007
What: Press Briefing, Protest, Civil Disobedience, Symbolic shut down of the Federal Building
When: 1 pm, Thursday, August 23
Where: SF Federal Building, 450 Golden Gate Ave., SF
Today CODEPINK women who have been fasting for 11 days to meet with Speaker Nancy Pelosi about the war received word from Pelosi's SF Director Dan Bernal that the Speaker does not have time to meet with them or any of the peace groups in her district anytime during the August recess. Shut out and silenced by the Speaker, CODEPINK women will symbolically shut down the Federal Building on Thursday in protest.
Women with CODEPINK: Women for Peace have been fasting and camping outside Speaker Pelosi and Senator Feinstein's offices for 11 days asking for meeting about the war. In response to the tents pitched outside her Pacific Heights mansion, Senator Feinstein held a meeting at the encampment with the fasters on Tuesday, August 21, after which the group agreed to end their camp at her home. Speaker Pelosi, however, has refused to meet and called the hunger strikers "nuts." The fasting activists presented a letter to the Speaker asking for a meeting. The letter was signed by 30 prominent peace and justice groups in the Bay Area, including Iraq Veterans Against the War, the San Francisco Labor Council, Jewish Voices for Peace, American Muslim Voice and MoveOn.
"Pelosi's SF director, Dan Bernal, said the speaker refuses to meet with any of us, but won't give us a reason why," said hunger striker Nancy Mancias. "We will block the entrance to the Federal Building to symbolize our lack of representation by our elected representative."
With the August recess and Congresspeople all over the country meeting with their constituents, CODEPINK and a coalition of San Francisco peace groups have sent multiple requests for a meeting. All their attempts have been rebuffed.
"The speaker has plenty of time for fundraisers and luncheons with donors. She even made a surprise appearance at a Democrats and Donuts coffee klatch gathering in Ahwatukee, Arizona, and the organizers gushed about how much time Pelosi gave them," says CODEPINK founder Medea Benjamin. "It's outrageous that she has time for everyone but her constituents who want to talk about the most pressing issue facing this nation."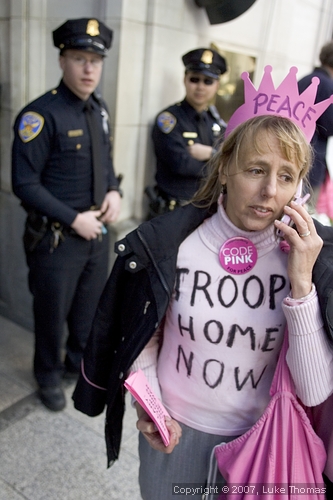 CODEPINK cofounder Medea Benjamin
Several members of the group, including the hunger strikers, will risk arrest at the Federal Building action.
Visit www.pelosiwatch.org and www.codepinkalert.org for more info on CODEPINK.
####