Cold front threatens homeless, elderly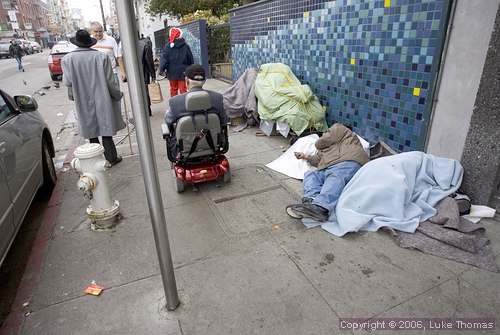 Photo(s) by Luke Thomas
By Tamara Barak, Bay City News Service

January 12, 2007
With a freeze watch hovering over the Bay Area, local and state officials are taking measures to protect the most vulnerable citizens.
The National Weather Service reported that an arctic air mass will move across the Bay Area, setting the stage for very cold weather and several hours of freezing temperatures in the interior valleys.
Friday overnight will be even colder than last night. The weather service predicts the coldest valleys will see temperatures drop into the teens and normally mild cities by the ocean and bay will experience freezing temperatures.
The weather service has issued a freeze watch.
Gov. Arnold Schwarzenegger on Wednesday directed state agencies to activate the extreme temperature protocols established last year to protect the homeless, disabled, elderly and poor. Eleven National Guard armories -- including those in Gilroy, Sunnyvale and Santa Cruz -- have been opened as emergency shelters.
Local homeless shelters, like EHC LifeBuilders' Boccardo Reception Center in San Jose, are also operating at overflow capacity throughout the weekend.
"Cold temperatures like those predicted for this week can be life-threatening,'' EHC LifeBuilders spokeswoman Hilary Barroga said, adding that the shelter is "pulling out all stops to keep everyone safe and warm'' during the cold snap.
San Jose's Community Homeless Alliance Ministry estimates that 7,645 homeless people live in Santa Clara County. Last year, 48 people died on the streets -- a number that is greater than the last four years, the ministry reports.
San Francisco Mayor Gavin Newsom announced Wednesday that the city would expand its homeless outreach efforts through the weekend. The Department of Public Health has arranged for two Mobile Assistance Patrol vans to provide help and shuttle people to homeless shelters during the night. Shelters in the Mission, Tenderloin and Bayview neighborhoods will offer drop-in services throughout the day.
California Department of Community Services and Development Director Lloyd Throne stressed that there are many low-cost or no-cost ways people can prepare for the extreme cold.
He recommended wearing layers of loose-fitting clothes to trap body heat, opening the drapes to let the sun heat the home during the day and closing them at night for insulation, closing off unused rooms and the vents that heat them, and sitting near the interior walls instead of external walls and windows.
He warned against heating homes in unsafe ways.
"To save money, some families heat their household in a way that increases the risk of fire or carbon monoxide poisoning. There are community-based programs that can help low income individuals and families maintain and safe and healthy home,'' Throne said.
In Salinas, seven people were hospitalized with carbon monoxide poisoning on Christmas Day after a man brought a barbecue inside.
In Contra Costa and Marin counties, water district officials urged residents to check their outdoor water pipes to protect them from freezing.
"If temperatures drop into the 20s as predicted, unprotected outdoor water pipes are likely to freeze,'' Contra Costa Water District spokeswoman Patty Friesen warned.
Residents can protect their pipes by insulating them with commercial pipe-wrap available at garden and hardware stores, or simply wrapping and taping them with cloth or heavy paper.
If the pipes do freeze, the Marin Municipal Water District recommends slowly pouring lukewarm water on them so they thaw gradually.
Pouring hot water on frozen pipes can cause them to burst.
Copyright © 2006 by Bay City News, Inc. -- Republication, Rebroadcast or any other Reuse without the express written consent of Bay City News, Inc. is prohibited.

####