Woman's van battered
Bicyclists say it was hit-and-run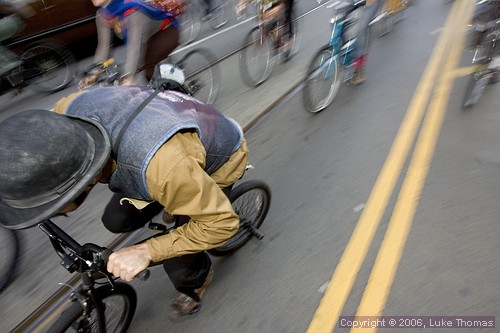 Photo(s) by Luke Thomas
By Brent Begin, Bay City News Service

April 5, 2007
SAN FRANCISCO (BCN) - A group of San Francisco bicyclists disputes a Redwood City woman's claim that her family was the victim of an unprovoked attack during a Critical Mass bicycle demonstration Friday.
Susan Ferrando has called on the city to hold someone accountable for wrecking her minivan during one of the semi-monthly protests, which are meant to promote bicycling as an alternative to driving cars.
Ferrando said it was a "terrifying incident" in which her children and their friends were held at the mercy of a swarm of bike riders. In the end she said their "city adventure" ended up causing $5,300 in damage to her vehicle.
But bicyclists at the incident dispute claims that Ferrando was the target of a baseless attack. They said Ferrando sped by a small group of bicyclists, knocking one man off his bike and running over his bicycle.
Kate McCarthy had been riding in that group, which she said was breaking off from the 20 or 30 bicyclists who made up a bulk of the dissipating mass.
With the way the police had held up traffic at the intersection of Post and Laguna streets, McCarthy and her group were alone without any traffic in the road.
Ferrando said she had the same experience after two police officers waved her through an intersection. She said there wasn't a car on the road. She had no idea what was happening.
That's when the stories diverge. McCarthy said the minivan zoomed past her, knocked one of the bicyclists in her group off his bike and then sped off. Some of the bikers then raced ahead to catch up with the van and stopped it.
McCarthy said she called 911 right away because of the hit-and-run. While they waited for the police, however, several more bicyclists peddled up to the scene, at Post and Buchanan streets, and they got violent, McCarthy said.
Ferrando said her daughter, who had just celebrated her birthday at Japantown center was sitting in the back with her friends when she saw a bike go through the window.
"Bikers were kicking the van, pummeling the outside," she said. "We were in such a state of shock that we didn't even think of calling 911 until finally my husband did."
Ferrando said that she never hit anybody and that when her van was surrounded, one bicyclist purposely drove into the right panel of her minivan as if to provoke her.
"A biker to my right made a 90 degree turn into the van. I didn't hit him," she said. "He so very intentionally biked into me."
Both parties said the police did a poor job of handling the incident. Ferrando said she wasn't warned of the danger of Critical Mass and that she was waved into the heart of it.
"I just want the city to know that this is dangerous for visitors who don't know what's going on," she said. "Unsuspecting people need to be warned."
McCarthy said she was intimidated by police when she tried to file a hit-and-run report. They told her she couldn't file a claim unless the injured party accepted medical attention. But, she said, bicyclist who was hit wasn't injured; it was his bike that suffered the consequences.
Leah Shahum, executive director of the San Francisco Bike Coalition, said this entire story has been one-sided and it overshadows the everyday dangers of biking in the city.
"We've got a totally unacceptable rate of bicycle and pedestrian deaths and injuries in this city and that should be the real story," Shahum said.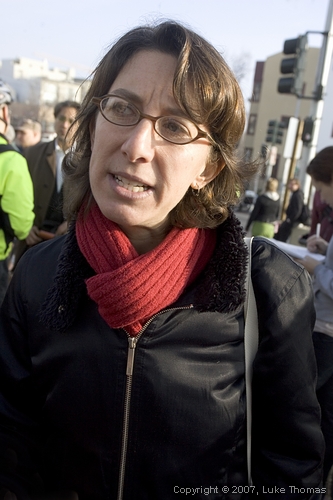 San Francisco Bicycle Coalition Executive Director Leah Shahum
Copyright © 2007 by Bay City News, Inc. -- Republication, Rebroadcast or any other Reuse without the express written consent of Bay City News, Inc. is prohibited.
####