Daly to tour air pollution hot spots
of Southeast San Francisco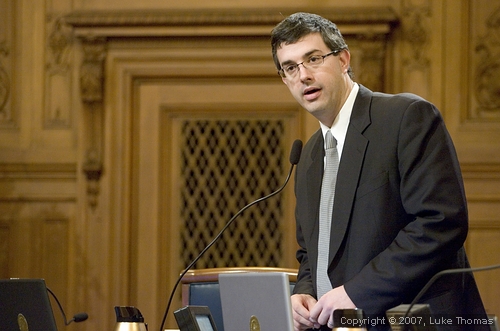 Supervisor Chris Daly is scheduled to tour pollution hots spots
in Southeast San Francisco Monday, it was announced today.
Photo(s) by Luke Thomas
By Mike Aldux
August 5, 2007
San Francisco Supervisor Chris Daly will tour pollution hot spots in Southeast San Francisco neighborhoods Monday afternoon, it was announced today.
Youth leaders from Excelsior, Visitacion Valley, Portola and Bayview will lead Daly on a "toxic tour," according to a statement from the Chinese Progressive Association.
The tour, set to begin at noon from the Excelsior Boys and Girls Club at 163 London St., is preceded by a 4-year research effort conducted by the Common Roots Program.
As part of the program, Chinese and Latino immigrant youth have been surveying local residents, conducting scientific air sampling in collaboration with the Department of Public Health, and working with researchers at Golden Gate University's Environmental Law and Justice Clinic to analyze toxic release data from public agencies.
The results of the research will be presented Monday to Daly, who is a member of the Bay Area Air Quality Management District.
"This tour is our way of showing our neighborhoods where we live and go to school to the people who are responsible for protecting our environment and our health," said Alessandra Ortiz, 15, of Portola.
The tour will highlight the history as well as the ongoing environmental issues facing largely immigrant low-income communities in the area.
Copyright © 2007 by Bay City News, Inc. -- Republication, Rebroadcast or any other Reuse without the express written consent of Bay City News, Inc. is prohibited.
####