Fogel declares California lethal injection unconstitutional but fixable
Contradiction leads to outcry from anti-death penalty activists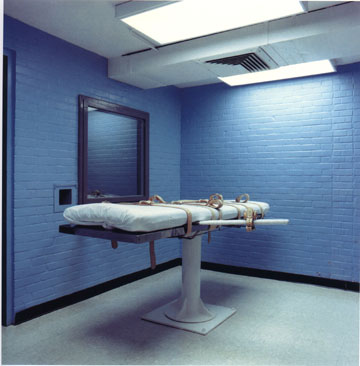 Photo courtesy Death Penalty Information Center
By Elizabeth Daley, Bay City News Service

December16, 2006
U.S. District Court Judge Jeremy Fogel declared California's method of lethal injection unconstitutional Friday, but said the procedure could be "fixed," prompting an outcry from anti-death penalty activists.
Representatives of the Campaign to end the Death Penalty in Oakland announced their plans to "step-up" their effort to eradicate the death penalty, saying it is always a form of cruel and unusual punishment.
"The hearings that Judge Fogel conducted showed the serious issues involved and the possibility of prisoners being conscious during the painful procedure. But the bigger picture is that no matter what the mix of chemicals, all executions are cruel and unusual," said Crystal Bybee, campaign coordinator of the California Campaign to end the Death Penalty.
Barbara Becnel, an advocate for Stanley Tookie Williams, watched William's execution on Dec. 13 2005 and said the procedure which she called a "torture murder," took over 35 minutes.
While many states and countries do not issue death sentences, American death row inmates may be electrocuted, shot by a firing squad, gassed, hung, or die by lethal injection.
Most states that employ the death penalty use lethal injection as the primary method of execution, allowing other approved methods if specifically requested.
Assemblywoman Sally Lieber (D-San Jose) said she supported Fogel's ruling.
"Any method of execution that involves pain or the masking of pain should be unconstitutional," said Lieber. "The administration of California's death penalty needs reform, we are seeing bipartisan support in Florida and other areas, to focus on this issue."
Earlier this year Lieber introduced an assembly bill that would have allowed voters to decide whether to establish a temporary moratorium on executions in California.
Lieber's office reports a non-partisan state commission is currently examining flaws in California's death penalty and is expected to report their findings to the Legislature in late 2007.
Copyright © 2006 by Bay City News, Inc. -- Republication, Rebroadcast or any other Reuse without the express written consent of Bay City News, Inc. is prohibited.

####