San Francisco police arrest anti-war protestors
on fourth anniversary of Iraq war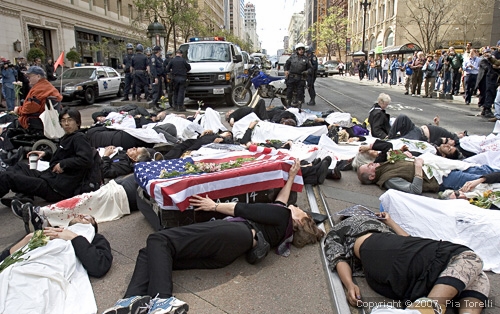 Anti-war protestors in San Francisco perform a die-in demonstration on the fourth anniversary of the war in Iraq. Almost 50 protestors were arrested.
Photos by Pia Torelli, Special to Fog City Journal
By Brent Begin, Bay City News Service

March 19, 2007
SAN FRANCISCO (BCN) - San Francisco police made almost 50 arrests this afternoon as demonstrators gathered in various intersections in downtown San Francisco to protest the war in Iraq, police spokesman Sgt. Steve Mannina said.
Today is the fourth anniversary of the start of the military conflict in Iraq.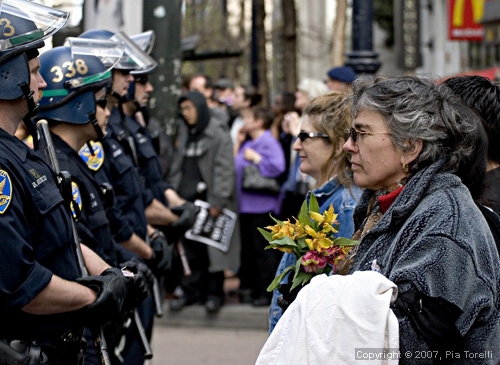 Die-ins were planned for Spear and Market streets; Montgomery and Market streets; Market and Powell streets; and U.N. Plaza, at Seventh and Market streets, according to organizers.
Mannina said 25 women and 18 men were arrested around 12:50 p.m. after refusing to disperse as they lay in the middle of Market Street at Montgomery Street. A male juvenile was admonished and released, he said.
Police read the order to disperse twice and it took around 30-45 minutes to complete the arrests, he said.
Another 13 people were arrested at Market and Powell streets after the arrests at Market and Montgomery streets, Mannina said.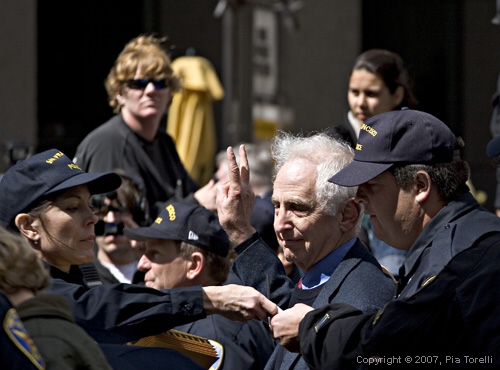 Former military analyst Daniel Ellsberg is placed under arrest by San Francisco police. Ellsberg caused an uproar in 1971 when he leaked the Pentagon Papers, classified documents revealing military accounts of the Vietnam war.
None of today's die-in protests was particularly disruptive to pedestrian traffic, he added.
Marc Joffe, an organizer of a lunchtime rally outside the Federal Building in San Francisco said there were no arrests at the rally, which drew a crowd of around 500 people over the lunch hour.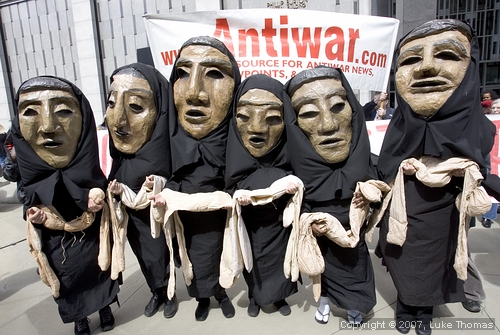 Photo by Luke Thomas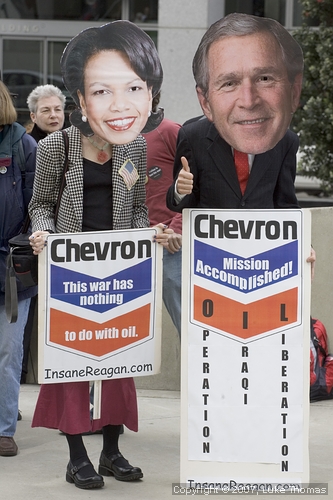 Photo by Luke Thomas
A group of protestors with the organization Military Families Speak Out were arrested today after going inside the building and gathering in a corridor near U.S. House Speaker Nancy Pelosi's office to read the names of those killed in the war, Joffe said.
Copyright © 2007 by Bay City News, Inc. -- Republication, Rebroadcast or any other Reuse without the express written consent of Bay City News, Inc. is prohibited.
####