Mysterious wreckage identified
as World War II dive bomber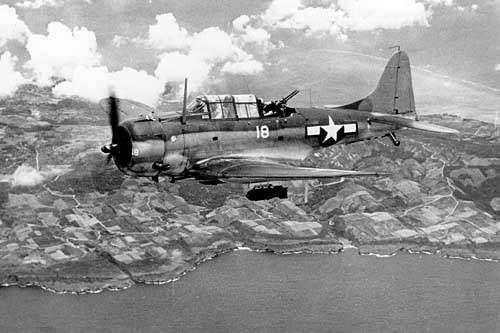 The wreckage of a World War II Douglas SBD-5 Dauntless dive bomber, like the one pictured above, has been discovered in a Pajero field.
U.S. Navy photo courtesy commercemarketplace.com
By Jeremy Lipps
August 17, 2007
The wreckage of a plane found in a Pajaro field July 3 has been identified as a lost dive bomber that crashed in 1944 during a training mission intended to prepare the two-man crew for service in the Pacific during World War II.
The war in the Pacific was raging and pilots were in high demand with aircraft carriers losing 10 percent of their planes each month, according to Jack Green of the U.S. Naval Historical Center in Washington, D.C. The United States was mass-producing planes and pilots to defeat Japan and Germany.
On Jan. 14, 1944, U.S. Navy Reserve pilot Ensign Delbert Cramer Goodspeed and his radio operator and gunner Aviation Radioman 2nd Class Robert Henry Paulson drifted from a formation at 10,000 feet above Watsonville during a training mission.
The Douglas SBD-5 Dauntless dive bomber gently veered left in clear nighttime skies and hit the ground, killing the two men and shredding the Douglas, according to Green. The Douglas SBD-5 was made famous for its performance during the battle of Midway.
The official crash report was inconclusive as to why the young pilot crashed. No radio transmission indicated problems and it was concluded that Goodspeed was likely unconscious, although no one will likely ever know.
Goodspeed earned his wings April 16, 1943, and had almost 700 hours of airtime under his belt, with no incidents on his record, Green said.
"This loss reminds us all of the great losses, not only in combat but training too,'' Green said. "Aviation duty was glamorous, but dangerous too.''
The Navy did locate the crash site in 1944, removed the bodies and any live ammunition they could find. Both men's remains were returned to their families in 1944.
Green did not know if any remains were found in the rediscovery of the plane July 3 but should any more remains or personal belongings be found, they would be returned to the Navy, which would attempt to locate surviving family.
Goodspeed and Paulson would likely have gone on to fight with the rest of the squadron in the crucial Battle of Leyte Gulf in the Philippines in October 1944 aboard the aircraft carrier USS Intrepid.
The plane was found by a Pajaro Valley Water Management Agency work crew digging a trench in the area of Trafton Road in Pajaro. The bulk of the aircraft was likely removed by Navy officials leaving only aluminum bits, Green said.

Copyright © 2007 by Bay City News, Inc. -- Republication, Rebroadcast or any other Reuse without the express written consent of Bay City News, Inc. is prohibited.
####