Supervisor Ed Jew pleads not guilty
to nine felony charges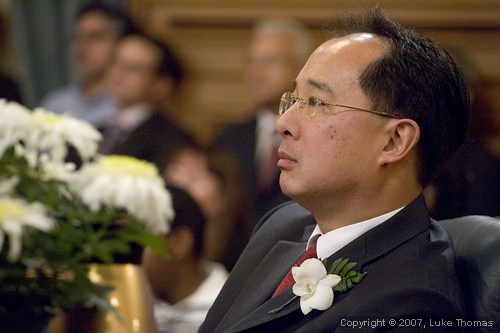 District 4 Supervisor Ed Jew
Photo(s) by Luke Thomas

By Ananda Shorey
July 16, 2007
Dozens of demonstrators waved "Political Torture," "Keep Fighting," and "Grab Criminals Not Headlines" signs on the steps of the San Francisco Hall of Justice today where embattled Supervisor Ed Jew pleaded not guilty to nine felony charges.
The charges, filed in June by District Attorney Kamala Harris' prosecutors, include violations of the election code and allegations that he committed perjury when he said he lived in San Francisco, his attorney, Bill Fazio, said.
A spokeswoman with Harris' office said today that DA is looking forward to prosecuting the case and protecting the integrity of the electoral process in San Francisco.
"The charges of perjury, filing false documents and voter fraud go to the heart of District elections and democracy in San Francisco," said spokeswoman Debbie Mesloh in a prepared statement.
Wearing an American flag tie, the District 4 supervisor appeared in Department 9 chatting and hugging supporters before entering his plea.
Jew's intent has always been to live in San Francisco, where he has personal and business ties, Fazio said.
The supervisor didn't do anything wrong, which we will prove, Fazio said. "I think that Supervisor Jew is in an excellent position."
Jew's lawyers say there is sufficient proof that he satisfied residency requirements prior to running for public office in the November 2006 election.
However, San Francisco City Attorney Dennis Herrera has pointed to evidence suggesting Jew didn't fulfill the requirements to run for city office.
It has been speculated that Jew rarely resided at his Sunset District home in the months leading up to his announcement of candidacy.
It has been argued that his primary residence is in Burlingame.
"He has no spirit, conviction or heart in San Mateo (County)," Fazio said today.
Miniscule water usage was allegedly recorded at the Sunset District home during the months leading up to the election.
Jew's attorneys have said this can be attributed to the supervisor's dedication to his Chinatown flower shop.
Jew has allegedly had some form of presence at his Sunset District home at 2450 28th Ave. intermittently since around 1984.
In addition to the residency charges, Jew still faces a Federal Bureau of Investigation probe into his alleged acceptance of $40,000 in cash from a group of businessmen having permit problems. Jew denies wrongdoing and no federal charges have been filed.
Fazio requested today that Judge Curtis Karnow decrease Jew's bail, which is set at $135,000. Karnow said the issue has to be revisited in court Tuesday.
A hearing is scheduled for Tuesday at 9 a.m. in Department 20 to set a preliminary hearing. Fazio requested that his client not attend because of his busy schedule.
Copyright © 2007 by Bay City News, Inc. -- Republication, Rebroadcast or any other Reuse without the express written consent of Bay City News, Inc. is prohibited.
####