Judge orders Supervisor Ed Jew to stand trial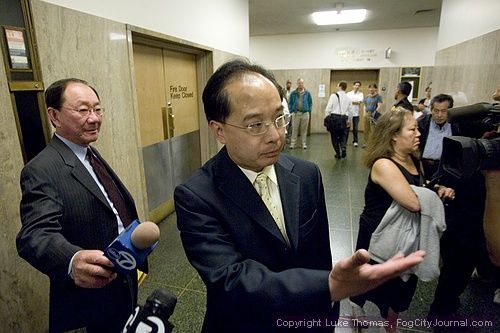 Supervisor Ed Jew has been ordered to stand trial by Judge Harold Kahn
regarding allegations he does not live in the district he represents.
Photo(s) by Luke Thomas
By Ananda Shorey
August 1, 2007
A San Francisco Superior Court judge said during Ed Jew's preliminary hearing today that the supervisor must go to trial regarding allegations that he does not live in the district he represents.
The District 4 supervisor has pleaded not guilty to nine felony charges related to alleged violations of the city elections code. Prosecutors question whether he lives inside the district he represents and whether he misrepresented his residence in candidate nominating documents.
Jew has reportedly has been present at his Sunset District home, located at 2450 28th Ave., intermittently since around 1984.
Jew is the subject of a separate FBI probe into his alleged acceptance of $40,000 in cash from a group of businessmen having permit problems. Jew denies wrongdoing and no federal charges have been filed.
Copyright © 2007 by Bay City News, Inc. -- Republication, Rebroadcast or any other Reuse without the express written consent of Bay City News, Inc. is prohibited.
####