Loan application sinks Jew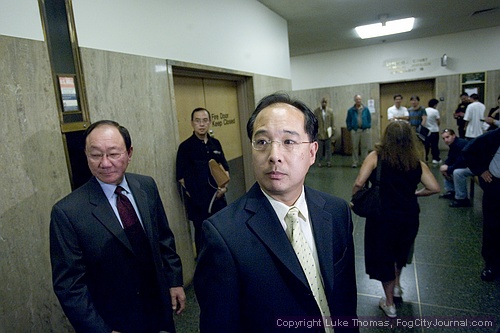 Supervisor Ed Jew has been ordered to stand trial by Judge Harold Kahn
regarding allegations he does not live in the district he represents.
Photo(s) by Luke Thomas
By Emmett Berg
August 1, 2007
Prosecutors are relying on a loan application filled out by Supervisor Ed Jew in 2005 to show that he did not live at a home he owned in San Francisco but had for years resided outside the city.
During a three-day preliminary hearing in San Francisco Superior Court, Assistant District Attorney Evan Ackiron presented testimony from neighbors to the Sunset District home at 2450 28th Ave. Utility workers and investigators were also brought in to substantiate nine felony charges alleging false claims of residency and violations of the elections code.
The prosecutor also alleged a crime not even covered in the indictment: that Jew had allegedly forged the name of his brother David Jew on an absentee ballot request form last year.
But Ackiron concluded his argument before Judge Harold Kahn by pointing to fine print in a universal loan application he said was completed by Jew in 2005. Jew was seeking money to buy property in Arizona.
The fine print in the loan application said lying about information provided in the form was a federal offense. In the form Jew stated his current address as Chandler, Ariz., and his previous address as Burlingame, where he stated he had lived for six years, according to Ackiron.
Ackiron said that if Jew was truthful in the loan application, he could not have been truthful when he registered to vote in San Francisco in 2003.
"If the reverse is true, this document is false and Mr. Jew has committed a federal crime," the prosecutor said.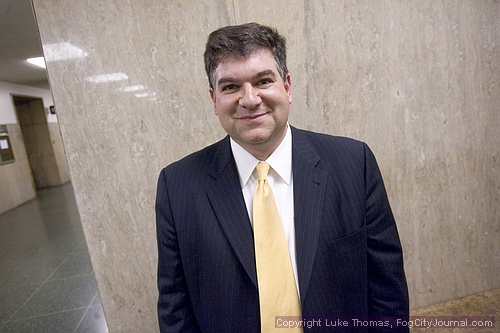 Assistant District Attorney Evan Ackiron

Bill Fazio, Jew's attorney, has said that the documents and testimony presented by prosecutors were not conclusive, and that neighbors who testified may be unreliable.
Outside court, Fazio said the prosecution case was "weak" and that his client would prevail.
"This was their best shot," Fazio said. "Ed Jew hasn't even begun to fight."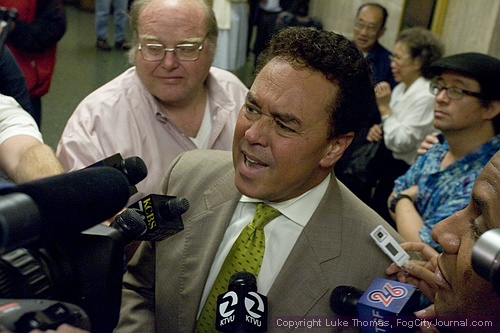 Defense Attorney Bill Fazio
Conviction on the charges could strip Jew from his spot on the San Francisco Board of Supervisors and result in prison time.
Outside court Jew was asked how he would handle being a defendant in a criminal trial while still fulfilling the responsibilities of his public office.
"Let me just say this, I was at the board meeting until about 8:30 last night. And if need be, I'll be there today, tomorrow, the next day and so forth," Jew told reporters. "You make it work."
A representative of the district attorney said she expected a trial to last between one and two weeks.
Kahn set Aug. 20 as a date for further arraignment and setting of a trial date.
Jew's troubles began in May when agents from the FBI allegedly caught him with cash given to restaurant owners seeking a permit in the supervisor's district. No federal charges have been filed and Jew has denied wrongdoing.
Media scrutiny following the raid led to questions about Jew's residency.
Copyright © 2007 by Bay City News, Inc. -- Republication, Rebroadcast or any other Reuse without the express written consent of Bay City News, Inc. is prohibited.
####