Ed Jew supporters protest 'unfair treatment'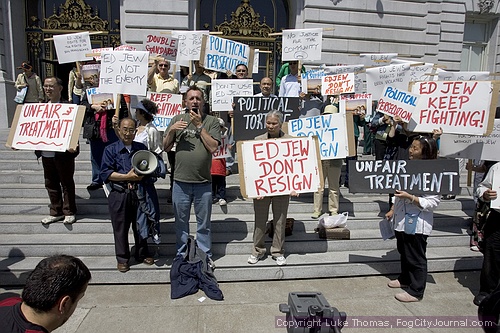 As many as 50 supporters attended a rally today on the steps of City Hall
to voice their support for Supervisor Ed Jew.
Photo(s) by Luke Thomas
By Tamara Barak

June 15, 2007
San Francisco Supervisor Ed Jew is being lynched by the media, tried by the public and persecuted by the city's district, his supporters said at a rally today.
The embattled supervisor, who represents the Sunset District, was arrested this week on nine felony charges including perjury and voter fraud.
Jew is accused of lying about living in the district he represents. Meanwhile, he faces a separate investigation by the FBI public corruption unit into allegations he accepted $40,000 from a group of businessman who wanted their permit problems to go away.
But his supporters - about 50 of who gathered on the steps of San Francisco City Hall this morning - say the rookie supervisor is being treated unfairly.
Calvin Louie, president of the Chinese American Democratic Club and one of the organizers of the rally, said he was offended by the way the press has portrayed Jew.
"He has been painted as a criminal before the investigation in his case has been completed," Louie said.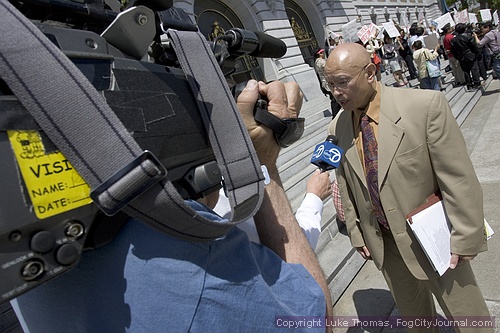 Chinese American Democratic Club President Calvin Louie
Louie said he believes Jew is innocent.
"I know he lives in the city. I know he lives on 28th Avenue. I know his heart and soul is in the Sunset," he said.
Louie called the way the supervisor's troubles "the lynching of Ed Jew's rights."
"Do his basic rights go away because he is Chinese?" Louie asked.
Joe O'Donoghue, head of the Residential Builders Association, compared San Francisco District Attorney Kamala Harris to Duke University rape case prosecutor Mike Nifong.
"Drug dealers have more rights in this city than Ed Jew," O'Donoghue said. He added that Jew is innocent until proven guilty in a court of law, "not by a bunch of political hacks."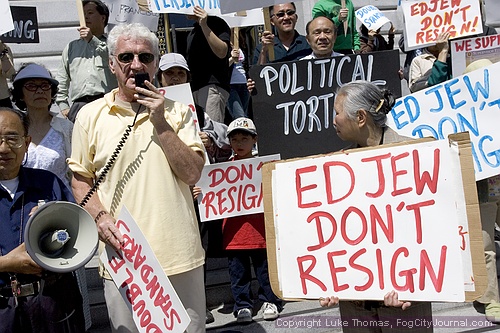 Former RBA Chieftain Joe O'Donoghue
Ron Lee, a volunteer liaison in Jew's district, said he has been talking to merchants and residents who are upset by the way Jew is being treated.
"What about the work he's done? What about what he's done for the neighborhood? What about where his heart is?" he said of Jew.
Other supporters held signs that read, "Political persecution," "Ed Jew keep fighting" and "Stop media bashing."
Today is also the deadline for Jew to provide the city attorney documents proving he lives at the 28th Avenue home. The city attorney had not yet received the utility bills and other documents by mid-afternoon, spokesman Matt Dorsey said.
Copyright © 2007 by Bay City News, Inc. -- Republication, Rebroadcast or any other Reuse without the express written consent of Bay City News, Inc. is prohibited.
####