Elizabeth Edwards speaks
at San Francisco Gay Pride breakfast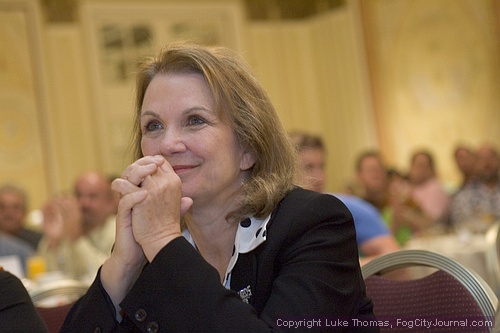 Elizabeth Edwards
Photo(s) by Luke Thomas
By Laura Dudnick

June 24, 2007
Elizabeth Edwards received thunderous applause during a speech in San Francisco today as part of Sunday's Gay Pride celebration.
Elizabeth Edwards, wife of 2008 presidential candidate former U.S. Sen. John Edwards, advocated her husband's democratic campaign and addressed issues pertaining to poverty, the U.S. involvement in the Iraq war and lesbian and gay rights, among other topics.
As members of the audience held up John Edwards campaign posters, Elizabeth Edwards conveyed her and her husband's beliefs regarding one of the most important issues to many San Franciscans: the rights of gay and lesbian American citizens.
"Everyone should have the same rights and benefits," Elizabeth Edwards said. "Same-sex couples should receive the same treatment (as straight couples)."
On the subject of poverty in America, Elizabeth Edwards said that she believed Congress had masked the issue in unjustifiable silence.
"37 million people (in America) live in poverty, and 15 million in deep poverty," she said.
Elizabeth Edwards, who has been fighting breast cancer since 2004, also declared that the country's healthcare is "in shambles."
In addition, Elizabeth Edwards said she and John Edwards both support stem cell research, deeming it an important part of the country's progress toward curing many medical problems.
"We need a government driven by science and compassion, not ideology," Elizabeth Edwards said.
"It's time to stand up. It's time to fight," she said at the end of her speech.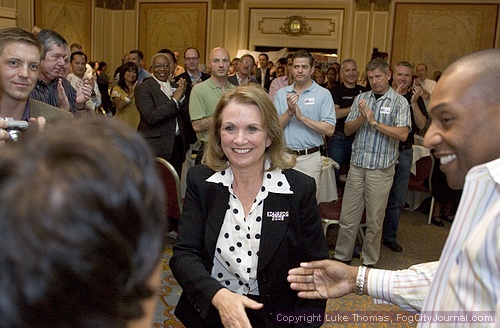 Elizabeth Edwards' speech took place at the annual Alice B. Toklas Pride Breakfast, hosted by the Alice B. Toklas Lesbian, Gay, Bisexual and Transgender Democratic Club, at the Sir Francis Drake Hotel at 9 a.m.
San Francisco Mayor Gavin Newsom and California Assemblyman Mark Leno, D-San Francisco, were among the opening speakers at the event.
Referring to Saturday and Sunday's Gay Pride celebration, Newsom shared his belief that the "magic of San Francisco" stems from the non-judgmental nature of the city.
"Today is an affirmation of what's good, and what's right," Newsom said.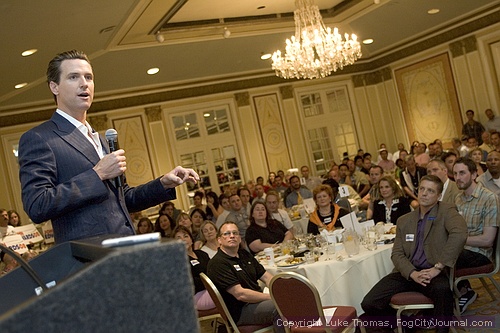 Mayor Gavin Newsom
Clad in leather pants that he jokingly referred to at one point during his short speech, Leno used his time at the podium to thank the audience for their support.
Copyright © 2007 by Bay City News, Inc. -- Republication, Rebroadcast or any other Reuse without the express written consent of Bay City News, Inc. is prohibited.
####