Wiesel assault suspect arrested in New Jersey
Harris: "Our City won't allow hatred to go unpunished"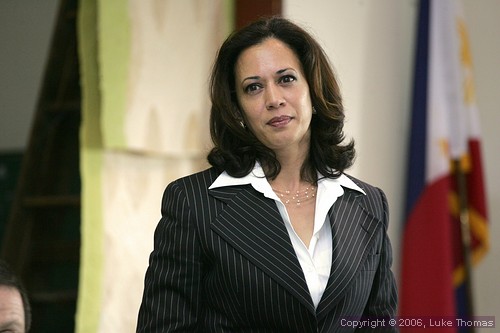 San Francisco District Attorney Kamala Harris
Photo(s) by Luke Thomas
By Ari Burack, Bay City News Service

February 18, 2007
SAN FRANCISCO (BCN) - A New Jersey man suspected of attacking Nobel Peace Prize laureate and author Elie Wiesel in San Francisco on Feb. 1 has been arrested, San Francisco District Attorney Kamala Harris announced Saturday.
Harris said 22-year-old Eric Hunt of Sussex County, N.J. was arrested Saturday by authorities in New Jersey and is in the process of being extradited to San Francisco for prosecution.
"Hate anywhere is a threat to people everywhere,'' Harris said.
"This was a brutal assault on a man who's dedicated his life to peace.''
Wiesel, 78, a survivor of Nazi concentration camps during World War II and author of the acclaimed memoir "Night,'' received the Nobel Peace Prize in 1986.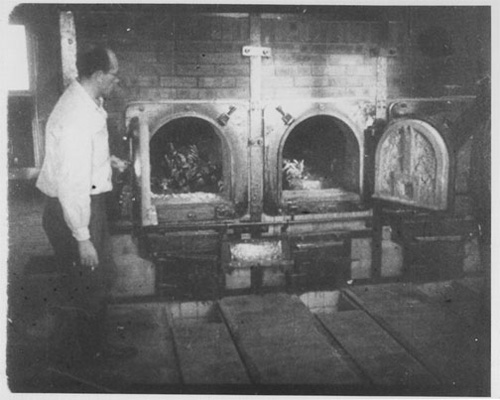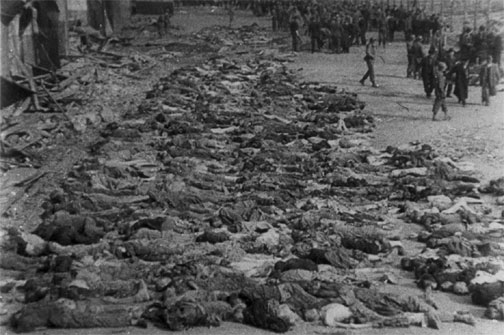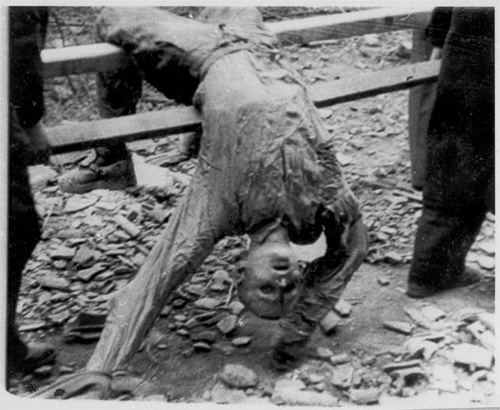 Previously unpublished photos discovered in 2003,
sandwiched behind a wall of a house
under renovation in Orange County, California.
The photos clearly document evidence of the holocaust.
Photographer unknown.
Hunt allegedly traveled to San Francisco specifically to confront Wiesel while Wiesel was attending the three-day RockRose Institute World Forum Meeting at the Argent Hotel, according to the district attorney's office.
According to police, a man believed to be Hunt joined Wiesel in an elevator at the hotel on the evening of Feb. 1 and asked him for an interview.
Wiesel agreed and suggested they go to the hotel lobby, but the man instead invited Wiesel to his hotel room, San Francisco police Sgt. Neville Gittens.
When Wiesel declined, the man allegedly tried to force Wiesel into his room, according to Gittens. Wiesel screamed for help and the man ran off, Gittens said.
Wiesel was not physically injured in the attack, police reported. Evidence found in a car left in the hotel's parking lot helped police identify Hunt as a suspect.
A Feb. 6 essay, posted on a Web site that declares its opposition to Zionism and Israel and questions the Holocaust, and attributed to "Eric Hunt,'' claimed responsibility for the Feb. 1 encounter with Wiesel.
Hunt was arrested this morning at a treatment facility he had recently checked into, about 60 or 70 miles from his home, by authorities in Montgomery Township, San Francisco police Lt. Mike Mahoney said.
Mahoney, who heads the police department's special investigations unit, said Hunt had recently graduated from college, and appears to be a "lone wolf'' and not part of an organized group.
Harris, confirming that Hunt will be prosecuted for hate crimes, was joined by San Francisco police Chief Heather Fong and leaders from the San Francisco religious community in condemning the attack.
Jonathan Bernstein, a regional director of the Anti-Defamation League called the assault "shocking'' and said he believes Hunt intended to send a violent message to Wiesel and to all Jews.
Rita Semel of the San Francisco Interfaith Council added, "It is important we stand together as one people'' against perpetrators of hate crimes.
Rabbi Stephen Pearce of San Francisco's Congregation Emanu-El said he was pleased to see how authorities handled the investigation.
"It makes me proud to be a San Franciscan,'' Pearce said.
Harris said Hunt will be charged with six felony counts: kidnapping, false imprisonment, battery, elder abuse, false imprisonment of an elder, and stalking. Special hate crimes allegations will be added to each felony count, according to Harris.
Wiesel "was viciously attacked for who he is, and we won't stand for that,'' Harris said.
"The charges today send a clear message,'' Harris added. "Our City won't allow hatred to go unpunished.''
Copyright © 2007 by Bay City News, Inc. -- Republication, Rebroadcast or any other Reuse without the express written consent of Bay City News, Inc. is prohibited.
####