Stanford professor calls Al Qaeda enemy combatant ruling quintessentially important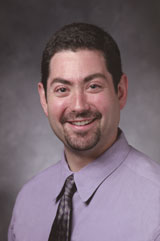 Mariano-Florentino Cuella
Photo courtesy Washington DC Stanford Association
By Julia Cheever

June 12, 2007
A Stanford University law professor Monday called a federal appeals court decision barring indefinite detention of civilians "a quintessentially important ruling in the war on terrorism."
Mariano-Florentino Cuellar, an associate professor of international criminal law, said, "The decision demonstrates how the courts push against the administration's assertion of executive authority."
In the decision, the 4th U.S. Circuit Court of Appeals in Richmond, Va., said the government cannot indefinitely keep in military custody a legal U.S. resident whom it has labeled as an enemy combatant.
The court ruled in the case of Ali al-Marri, a Qatar citizen who entered the United States legally in 2001 to obtain a master's degree in computer science in Illinois.
The government contends he is a "sleeper agent" for Al Qaeda.
Al-Marri was arrested in 2001. He was declared an enemy combatant by President Bush in 2003 and since then has been held without a trial in solitary confinement in a U.S. naval brig in South Carolina.
A panel of the appeals court said by a 2-1 vote that al-Marri has a federal constitutional right to challenge his detention through a habeas corpus petition and that "military detention of al-Marri must cease."
The court majority said, "Put simply, the Constitution does not allow the president to order the military to seize civilians residing within the United States and detain them indefinitely without criminal process, and this is so even if he calls them 'enemy combatants.'"
The court said allowing such detentions "would have disastrous consequences for the Constitution and the country."
The panel said al-Marri must be released from military custody "within a reasonable period," but said he could be transferred to civilian authorities to face criminal prosecution in court or could be deported to Qatar.
The U.S. Justice Department said, "We are disappointed with today's divided decision" and said it plans to seek review by an expanded panel of the appeals court.
The agency said, "The president has made it clear that he intends to use all available tools at his disposal to protect Americans from further Al Qaeda attack, including the capture and detention of Al Qaeda agents who enter our borders. We accordingly intend to seek further review of today's decision."
Cuellar said, however, that he thinks the ruling will be upheld on further appeal.
He said the Constitution provides that the right to file habeas corpus challenges to illegal imprisonment can be suspended only in times of rebellion or invasion.
"Congress can't be viewed as having suspended that right," Cuellar said.
Al-Marri is currently the only U.S. resident arrested on American soil who is being held in military custody as an enemy combatant.
Copyright © 2007 by Bay City News, Inc. -- Republication, Rebroadcast or any other Reuse without the express written consent of Bay City News, Inc. is prohibited.
####