Prosecution delivers opening statement
in Officer Espinoza killing trial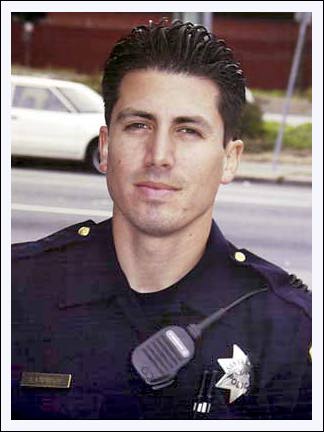 SFPD Officer Isaac Espinoza was killed in the line of duty
when he was allegedly shot by David Hill on April 10, 2004.
Photo courtesy SFPD.
By Brent Begin, Bay City News Service

October 16, 2006
SAN FRANCISCO (BCN) - David Hill was a known gang member on rival turf when he knowingly shot and killed San Francisco police Officer Isaac Espinoza with a semi automatic assault rifle, according to the prosecution's opening statement in Hill's trial in San Francisco Superior Court today.
In a courtroom packed with police officers and teary-eyed members of Espinoza's family, Assistant District Attorney Harry Dorfman said Hill, 23, has a history of violent behavior and an intense interest in assault weapons.
"This is a case about two dedicated police officers patrolling the Bayview ... and a dedicated gang member," Dorfman began.
Dorfman showed the jury of seven women and five men letters, videos and photos, all of which he said indicated Hill's gang involvement as far back as November 2000.
The prosecution emphasized that Hill knew he was shooting at an officer, despite the fact that 29-year-old Espinoza and his partner, major prosecution witness Barry Parker, were in plain clothes and an unmarked car.
"He, with his illegal, fully-loaded assault rifle, with his gang thinking and his gang mentality, chose to kill the police rather than stop for the police," Dorfman said.
Dorfman also laid out the chronology leading up to April 10, 2004 murder - from 2 p.m., when Espinoza and his partner Barry Parker began their shift, to the next day, when Hill was in custody in San Francisco.
He said that after dinner that night Espinoza and Parker left for a short patrol before heading home early. They often patrolled the area in plain clothes, communicating with gang members and "seeing and being seen," Dorfman said.
The officers came upon two men in the street, one identified as Hill, when Espinoza pointed a flashlight, according to the prosecution. The officers left their gray patrol car because they saw Hill swinging one arm and not the other, as though something were under one side of his black peacoat.
When Espinoza approached a retreating Hill, he identified himself as police, according to Dorfman. Hill turned and shot Espinoza twice and then began shooting at Parker who was behind the patrol car, "frantically calling for backup," Dorfman said.
The prosecution then summarized Hill's run from the law, from stashing the gun, gloves and peacoat, to stopping at his girlfriend's house, to his stopping at his grandparents' house and eventually a San Ramon hospital, where he feigned mental illness.
Dorfman said Hill maintained a routine about slavery while in custody of the hospital, saying, "I pick 100 pounds of cotton a day," and "Master Charlie don't beat me." He also at one point banged his head on a window and urinated on the floor, shouting, "Guards, I am Julius Caesar. I need to return to Rome."
The prosecution projected evidence before the jury to exhibit Hill's gang involvement, and to prove that Hill saw police as the enemy and was willing to shoot at them.
Hill's gang involvement was established last week when his defense changed to a guilty plea the count of involvement in a criminal street gang.
In letters, Hill wrote about "toting kayda," gang slang for carrying an AK-47 assault rifle, and sending "shots from chop at cop carz," in a reference to shooting an assault rifle at police cars, according to Dorfman.
In photos, the prosecution pointed to Hill and his friends signing with their hands the symbol for the known Bayview District gang Westmob.
Dorfman also pointed to photos depicting Hill carrying firearms.
Defense attorney Martin Sabelli is expected to give his statement this afternoon.
Copyright © 2006 by Bay City News, Inc. -- Republication, Rebroadcast or any other Reuse without the express written consent of Bay City News, Inc. is prohibited.

####