Prosecution calls first witness
in Officer Espinoza killing trial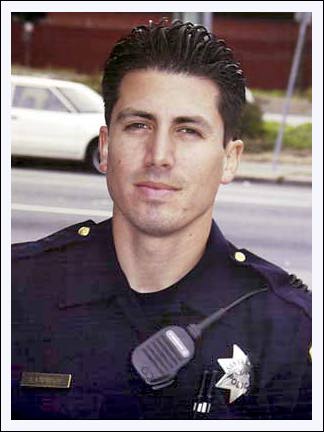 SFPD Officer Isaac Espinoza was killed in the line of duty
when he was allegedly shot by David Hill on April 10, 2004.
Photo courtesy SFPD.
By Brent Begin, Bay City News Service

October 17, 2006
SAN FRANCISCO (BCN) - The first officer to arrive and administer aid to San Francisco police Officer Isaac Espinoza was called to the stand today in San Francisco Superior Court as the first prosecution witness in the murder trial of David Hill.
Officer Joshua Olson told Assistant District Attorney Harry Dorfman he was training a new recruit on the night of April 10, 2004 when the first calls of "shots fired, officer down" were broadcast over the radio.
He and the recruit arrived in the 1300 block of Newhall Street minutes after the call first came in at 9:34 p.m. and stopped their patrol car in the middle of the street.
Olson testified that he was the first one out of the car and that he called "Where are you guys?" only to hear a panicked response of "over here.''
Olson then cried out, "Isaac, Isaac, Isaac," and found Espinoza on the sidewalk in pain.
In the next 30 minutes, according to Olson, 10 to 50 officers arrived at the crime scene, cutting off Espinoza's clothes, administering aid and cataloguing evidence. Hill's defense attorney Martin Sabelli tried in his cross-examination to bolster his argument that the crime scene turned chaotic in the moments following the initial "406" call, which stands for a citywide emergency.
Sabelli also established that Olson, who was the reporting officer, took only brief oral statements from Espinoza's partner, Officer Barry Parker, when Parker was in the hospital nursing a bullet wound to the foot.
Parker is expected to testify later this afternoon following testimony from a forensics expert.
Copyright © 2006 by Bay City News, Inc. -- Republication, Rebroadcast or any other Reuse without the express written consent of Bay City News, Inc. is prohibited.

####