Espinoza partner takes stand
in David Hill murder trial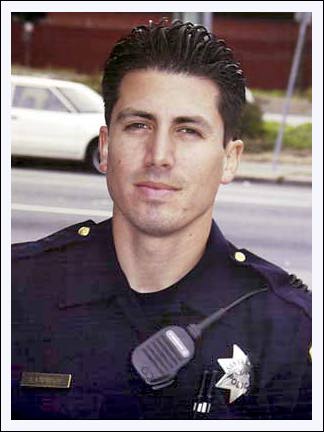 SFPD Officer Isaac Espinoza was killed in the line of duty
when he was allegedly shot by David Hill on April 10, 2004.
Photo courtesy SFPD.
By Brent Begin, Bay City News Service

October 19, 2006
SAN FRANCISCO (BCN) - The main prosecution witness in the trial of alleged cop-killer David Hill showed little emotion yesterday as he told the jury how he watched his partner Isaac Espinosa fall to the ground after taking two bullets from an assault rifle.
Officer Barry Parker, 41, said during nearly three hours of testimony that he noticed an assault rifle magazine sticking out of Hill's peacoat just before a flash of gunfire erupted from the muzzle of his weapon.
Parker, who was a 4-year veteran of the San Francisco Police Department the night of April 10, 2004, said that when the first shots rang out he was just getting out of his gray unmarked "Crown Vic."
That's when Parker took his .40-caliber Baretta out its holster.
He never fired it, however, because Hill, 21, then turned his assault rifle on Parker and fired about 10 shots, he said.
"I heard the front windshield cracking," he said "I could hear bullets. I remember the window exploding."
Parker then darted across Newhall Street to find cover. Shots kept ringing out, however, and he never had the chance to fire his weapon, according to testimony.
When the gunfire finally stopped, Parker was already in the process of calling on his police radio for a citywide emergency.
When asked how he felt while making the call, Parker said he was "upset" and "scared" and his voice was "fairly loud" as he broadcast the call.
After the call, Parker carefully went to check on a moaning Espinosa.
"There was a possibility he was taking a position of cover to shoot me," Parker said of the gunman.
Parker briefly checked on Espinoza, called again for medical attention and then went off to search for the suspect. When he approached Oakdale Street, he asked two men where the suspect went.
One of the men "smirked" and said nothing, Parker said. He then made a quick search of the area and returned to the scene.
"I didn't want to leave Isaac alone, so I went back to him," Parker said.
Both Espinoza and Parker were eventually taken to San Francisco General Hospital. Parker had bullet fragments tweezed from his ankle. He said to this day he still has pieces of metal under his skin.
But Espinoza never left the hospital. He was pronounced dead that night.
Assistant District Attorney Harry Dorfman spent much of the day establishing what happened leading up to the shooting.
Parker said he and Espinoza had just finished Chinese takeout at the Bayview station around 9 p.m. when they left for a quick patrol. Parker drove up Third Street and turned on Newcomb Avenue where several Saturday night pedestrians were bustling about.
That's when they noticed two suspicious men on the corner of Newcomb Avenue and Newhall Street. One of the men, dressed in a light gray sweat suit walked toward Third Street. Parker said the man never looked at them and that seemed suspicious.
The other man, who wore a dark peacoat, went the other way.
Espinoza shined a flashlight on his face as they drove up to him, according to Parker who pointed out David Hill across the courtroom as the man in question.
Dorfman demonstrated the distance between them at the time by extending a measuring tape between Parker's seat on the witness stand to a table in the middle of the room. It measured 16 feet, 6 inches.
Dorfman ended his arduous questioning around 4:20 p.m. Defense Attorney Martin Sabelli is expected to begin his cross-examination Thursday morning at 9:30 a.m.
Copyright © 2006 by Bay City News, Inc. -- Republication, Rebroadcast or any other Reuse without the express written consent of Bay City News, Inc. is prohibited.

####