Hill's strange actions after Espinoza killing described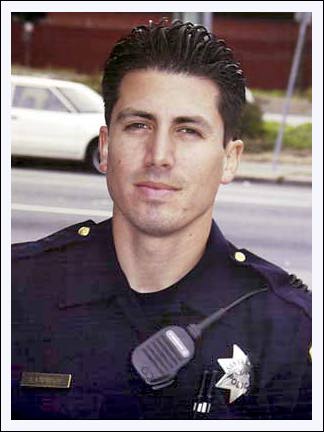 SFPD Officer Isaac Espinoza was killed in the line of duty
when he was allegedly shot by David Hill on April 10, 2004.
Photo courtesy SFPD.
By Brent Begin, Bay City News Service

October 26, 2006
SAN FRANCISCO (BCN) - A San Ramon police detective identified today a large plastic flower that prosecutors say David Hill was carrying the day he was arrested after stumbling into the San Ramon Valley Regional Medical Center.
The prosecution claims that Hill, a 22-year-old admitted gang member who is standing trial for the murder of San Francisco police officer Isaac Espinoza, walked into the hospital on April 11, 2004 and feigned mental illness.
Assistant District Attorney Harry Dorfman has maintained that the plastic flower, with white petals and a dark-green wobbly stem, was part of an act in which Hill could lay the groundwork for an insanity defense.
The director of that act, according to Dorfman, was fellow gang cohort Marvin Jeffery, 26.
Jeffery, who is expected to testify later this week, is the man who provided Hill with the assault rifle that killed Espinoza and who then sheltered him in his San Ramon apartment, according to Dorfman.
About 12 hours after Espinoza was shot in San Francisco's Bayview district on April 10, 2004, police had found Hill's identification in his black peacoat, which was found ditched near the scene of the murder.
In that time, the prosecution claims, Jeffery had convinced Hill to admit himself to the hospital.
While there, Hill's act went beyond carrying a fake flower.
Hospital attendants were so frightened by Hill's size and behavior that they called the San Ramon Police Department for assistance.
Detective Denton Carlson was one of the first to arrive at the hospital just before 12:30 p.m. He testified Wednesday that, along with a sergeant and an officer, he ordered Hill to the ground and then into a trauma room.
That's when Hill's behavior got really strange, according to Carlson.
Hill began yelling "guards" over and over again, and when Carlson came up closer Hill said, "I am Julius Caesar, I need to go back to Rome."
Hill shouted other things such as, "Master Charlie, don't beat me," "I pick a hundred pounds of cotton a day" and "Mary Lou made me do it."
After a while, Hill began to hurt himself, Carlson said.
"He tilted his head back and violently thrust his head forward and slammed his forehead into the glass," said Carlson who added that Hill did that again but never broke the window.
As he and fellow officers entered the room and bound Hill's ankles, they noticed that the groaning and moaning Hill had urinated on the floor and that he began to wallow in it, even twisting his cuffed hands so that they would be covered in it.
Dorfman said Hill was not having a mental breakdown at the time, he was only trying to sabotage a common detective technique called a gunshot residue test, in which chemicals are placed on the suspect's hands to determine whether they fired a gun recently.
Defense Attorney Martin Sabelli established upon cross-examination that Carlson gave no indication that would tip Hill off to a test. Hill was arrested and transported to San Francisco by San Francisco police shortly afterward.
An expert witness had testified earlier yesterday that traces of gunshot residue were found on Hill's peacoat. Prosecution testimony is expected to continue today.
Copyright © 2006 by Bay City News, Inc. -- Republication, Rebroadcast or any other Reuse without the express written consent of Bay City News, Inc. is prohibited.

####