Former mayoral secretary Hwang
files police brutality civil rights lawsuit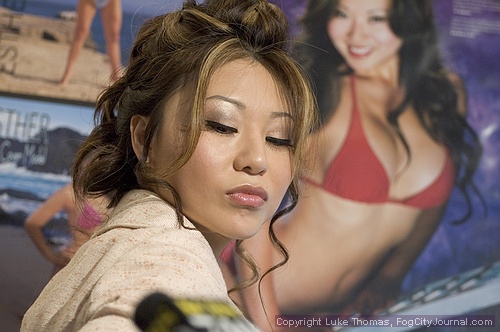 Esther Hwang, bikini model and former secretary to Mayor Willie Brown,
filed a federal civil rights lawsuit in San Francisco today claiming she was brutalized
and unlawfully arrested by police.
Photo(s) by Luke Thomas
By Tamara Barak

May 23, 2007
A woman who once made headlines as a bikini model who also worked as then-Mayor Willie Brown's secretary filed a lawsuit in San Francisco today claiming she was brutalized and unlawfully arrested by police.
Esther Hwang and her attorney John Burris announced the lawsuit today at the North Beach-based modeling agency that employs Hwang.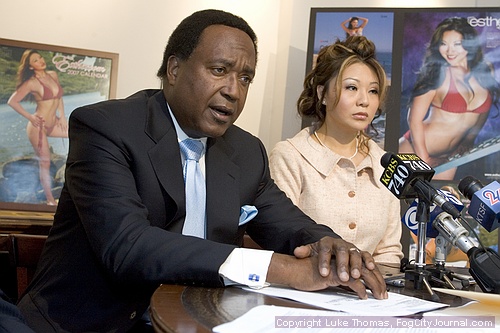 Attorney John Burris
Hwang, who has no criminal history, claims that on May 12, she and her boyfriend Nathan Flores went out to the North Beach nightclub Dolce to celebrate the completion of their law school final exams. Hwang said they arrived at 10 p.m., and she had her first and only drink of the evening, a pear cider.
"It's like a wine cooler, it has very little alcohol," she said.
After about 30 minutes, the couple left. Hwang said she stopped into a nearby liquor store to buy cigarettes while Flores chatted with one of several police officers standing on the sidewalk.
Hwang said she and her boyfriend decided to call it a night. While he returned to Dolce to retrieve their coats from the coat check, Hwang said she decided to say hello to a friend that worked at a club across the street.
That, she claims, is when the trouble started.
Hwang said she lit her cigarette and made a joke about jaywalking to Officer Jesse Serna, who was standing nearby.
Hwang said she was smiling when she said somewhat flirtatiously, "I guess you'd have to tackle me if I crossed the street."
Without a word, she said, Serna grabbed her arm and twisted it behind her back. Then, she claims, he and Officer Nelson Artiga began pushing her toward the ground and forcing her head down.
In fear, she said, she stepped on one of the officer's feet.
The suit claims that Serna yanked Hwang backward by her hair so she landed on her back on the ground. He then leaned down to her face and called her a vulgar name, Hwang claims.
Hwang claims her clothes were ripped in the scuffle and her breasts were partially exposed as she lay on the ground handcuffed. Artiga claimed to recognize her, Hwang said.
Hwang was arrested for being drunk in public, though she claims officers never used a breathalyzer or did a blood test. She was taken to jail, where she claims she passed out handcuffed after an anxiety attack and hit her head. She was released later that evening, she said.
Hwang says she also suffered bruises and psychological damage from the incident.
"He made me feel small, powerless. I knew it was because I was a woman and smaller than him," she said.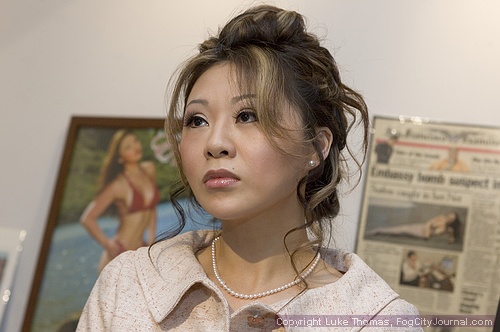 Burris said the suit, filed in federal district court in San Francisco, is asking for $1 million, including $500,000 in punitive damages against Serna and Artiga.
"The only way to make these officers understand this conduct is not acceptable is to make them pay out of their own pockets," Burris said.
Burris said he represents another client, a trainer for Barry Bonds, who is suing the city after being allegedly brutalized by Serna.
Police officials today referred all questions about Hwang's lawsuit to the city attorney's office.
"We have yet to see the lawsuit, so it would be premature for us to comment," said Alexis Truchan, spokeswoman for City Attorney Dennis Herrera.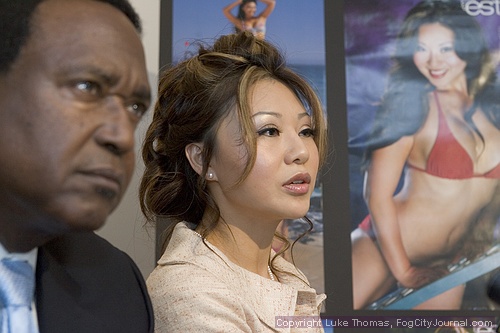 Copyright © 2007 by Bay City News, Inc. -- Republication, Rebroadcast or any other Reuse without the express written consent of Bay City News, Inc. is prohibited.
####