Federal appellate court cuts Exxon Valdez oil spill disaster punitive award to $2.5 billion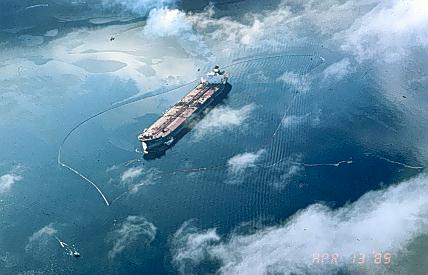 Aerial photograph of the Exxon Valdez, dated April 13, 1989.
Photo courtesty www.fakr.noaa.gov
By Julia Cheever, Bay City News Service

December 22, 2006
SAN FRANCISCO (BCN) - A federal appeals court in San Francisco today cut a punitive damages award against Exxon Mobil Corp. for a massive oil spill in Alaska in 1989 from $4.5 billion to $2.5 billion.
The 9th U.S. Circuit Court of Appeals said a substantial punitive award was appropriate because the oil company engaged in "highly reprehensible conduct'' in allowing a relapsed alcoholic to serve as captain of the oil tanker Exxon Valdez.
But the court said a $4.5 billion award set by a federal trial judge in Alaska was too high under standards set by the U.S. Supreme Court.
A panel of the appeals court said by a 2-1 vote that the award should be reduced to $2.5 billion because Exxon did not intend to cause the disaster and acted promptly to clean up the spill and compensate people whose livelihood was harmed.
The award was made in a lawsuit filed against Texas-based Exxon by commercial fishermen, landowners and Alaska natives who depended on subsistence fishing.
The Exxon Valdez spilled 11 million gallons of oil into Prince William Sound after it ran aground on a reef on March 24, 1989. The captain, Joseph Hazelwood, an alcoholic who had been drinking, left the ship's bridge just before a crucial maneuver that was needed to avoid the reef.
The panel said, "Exxon's reckless misconduct in placing a known relapsed alcoholic in command of a supertanker, loaded with millions of gallons of oil, to navigate the pristine and resource-abundant waters of Prince William Sound was reckless and warrants severe sanctions.''
The court rejected Exxon's claim that the punitive damages should be reduced to $25 million.
The decision was the third time the appeals court ruled on the case. A jury in Anchorage originally ordered a punitive award of $5 billion in 1994, but the trial judge reduced that amount to $4.5 billion. Both sides then appealed.
The economic damages case is separate from more than $3 billion in environmental cleanup costs and fines paid by Exxon.
Exxon representatives did not immediately respond to requests for comment.
Copyright © 2006 by Bay City News, Inc. -- Republication, Rebroadcast or any other Reuse without the express written consent of Bay City News, Inc. is prohibited.

####