Prosecution star witness cross-examined
in alleged Department of Building Inspection
corruption case
Fu alleges broad conspiracy

Real estate broker, loan specialist and one time contractor, Tony Fu, is the prosecution star witness in the trial against former Building Inspection Manager Augustine Fallay. On the stand Thursday, Fu alleged a broad conspiracy involving Fallay, Victor Makras, several building inspection department personnel, Mayor Gavin Newsom, Judge Peter Busch, and defense attorney Randall Knox.
Photo(s) by Luke Thomas
By Brent Begin, Bay City News Service

March 30, 2007
SAN FRANCISCO (BCN) - Prosecutors in the trial of a former San Francisco building permit official finished playing secret FBI recordings Thursday that are central to accusations of corruption in parts of the city's building inspection process.
The tapes, recorded over six months beginning in late 2004, are the crux of the district attorney's case against Augustine "Gus" Fallay, a former permit approval manager at the Department of Building Inspection charged with 33 counts of bribery, perjury and insurance fraud.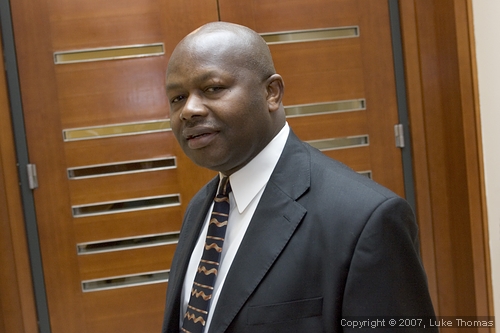 Former San Francisco Department of Building Inspection manager Augustine Fallay
The prosecution's star witness, a real estate broker, one-time contractor and loan specialist Tony Fu, has taken the stand for more than four days to corroborate the recorded conversations.
In December of 2004, the FBI outfitted Fu with hidden recording equipment as part of their investigation into alleged corruption in the department. Defense Attorney Randall Knox has countered that the wire Fu wore was a way to avoid prosecution himself.
Assistant District Attorney Marc Katz claims the tapes prove the guilt of Fallay. The tapes also hint at a larger hierarchy of wink and handshake deals in which Fallay would pressure his friends at the department to help move projects forward.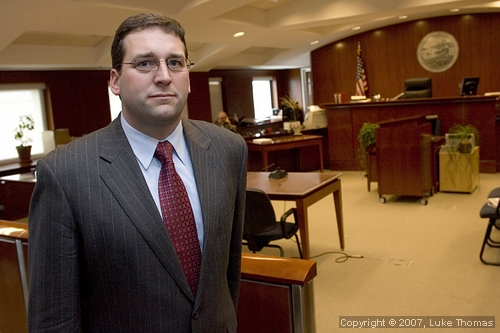 Assistant District Attorney Marc Katz
During conversations recorded in February and March of 2005, Fu and Fallay repeatedly named building officials who were standing in the way of a building project at 337 28th Ave.
Fu's ex-wife Crystal Lei had bought the property in 2002 and as soon as May of that year neighbors had started to complain that she was doing work on the building, such as squaring off the corners of the building and adding another third-story unit, without the proper permits and notification.
The first building inspector to be sent out to the property was Joe Duffy, according to building inspection documents. Duffy recommended two notices of violation on the property due to a third unit being installed without a permit.
Fu and Lei maintain in a sworn statement that Duffy tried to extort the two by demanding a bribe of $50,000 in order to sign off on their permits.
That's when Fu, who was doing much of the work for his ex-wife, enlisted the help of Fallay.
The two had maintained a special relationship for over 11 years in which at least four properties were approved under the radar, prosecutors claim.
Katz said that whenever Fu ran into building permit problems, he could take Fallay out to lunch and pick his brain. Whenever Fu needed a favor, he could call on Fallay to grease the wheels.
In return, Katz claimed, Fu would often pay for expensive lunches in restaurants like the Koi Palace and Imperial Chinese Restaurant, or give Fallay cash payments in red Chinese New Year envelopes. Fu even facilitated a $50,000 loan through his associate Demas Yan that Fallay never paid back.
Fallay's lawyer Randall Knox, however, says Fu is a small-time real estate man who tried to turn that $50,000 loan into blackmail material.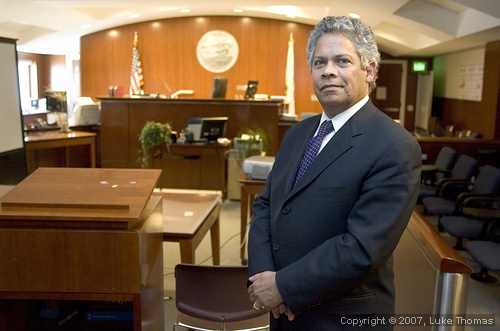 Defense Attorney Randall Knox
Knox maintains that Fallay had every intention of paying back the loan -- no more than a friend helping out a friend -- and as soon as Fu began to use it as leverage to get his permits approved, Fallay refused to play ball.
During cross-examintion Knox asked Fu to name all the people involved in the conspiracy against him and Lei.
"Maybe you Mr. Knox," Fu answered.
When asked if Mayor Gavin Newsom was part of the conspiracy, Fu answered, "Maybe."
Fu also named Judge Peter Busch as a co-conspirator.
"I do not have that answer at this time," Fu said when responding to Knox' question asking Fu what Busch did to aid the conspiracy.
But Fallay may have played a large part in fueling Fu's paranoia, according to the tapes. He told Fu that pushing through an approval on the 28th Avenue project might not be as easy as he hoped because "this is a lot more than you or I."
After Duffy issued a notice of violation to Lei, Fallay called on another friend, Inspector Ed Sweeney, to come in to approve the permits.
Sweeney, however, refused to approve the permit and, according to Fallay in the tapes, was told by officials higher up on the chain of command to issue a second violation.
Fallay then told Fu that he was running into problems from James Hutchinson, the interim director of the department at the time and Roy Guinnane, who was a member of the city's building inspection commission at the time.
Fallay told Fu that these men were at the mercy of Victor Makras, a local real estate mogul and current member of the San Francisco Fire Commission. Makras had apparently gained the favor of several people in the building world by providing them with low-interest loans and no-down-payment deals on local real estate, Fallay said in the tapes.
Fallay told Fu that Makras was now using those connections to deny Lei a permit at the 28th Avenue project. Lei claims the action was in retaliation for a $5,000 small claims award she won against Makras for improper asbestos removal.
Makras, who has served on the Board of Permit Appeals, the San Francisco Public Utilities Commission and the San Francisco Police Commissions under Mayors Art Agnos, Frank Jordan and Willie Brown, has not returned repeated calls for comment.
"I have the concrete belief," Fallay said in one taped conversation on Feb. 19, 2005. "I have the concrete belief that the one single person in this thing is Victor."
Knox has repeatedly questioned Fu's honesty, calling him "a liar of almost pathological proportions" during his opening statement.
Knox maintains Fu went to the FBI to save himself from being implicated in his own web of bribery and corruption. During cross-examination, Knox went out of his way to let the record reflect that Fu had himself engaged in a crime by negotiating alleged bribes with building inspectors.
Knox also accused Fu of soliciting backdoor deals even as he was working with federal authorities.
"Even when you're an informant for the FBI to try and clean up the Department of Building Inspection, you still want help with your project and that's really important to you," Knox said.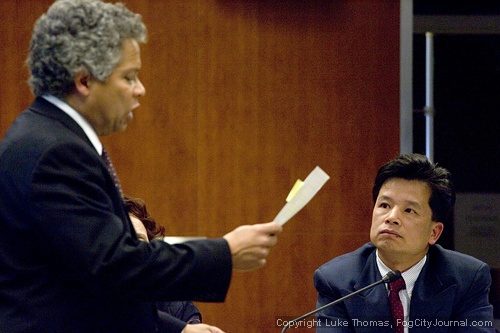 Knox's cross-examination is expected to continue Monday at 9:30 a.m. in front of Judge Ernest Goldsmith.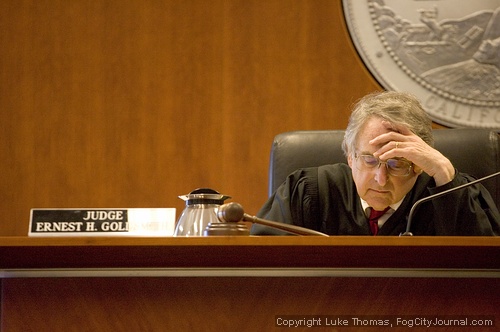 Judge Earnest Goldsmith
Luke Thomas contributed to this report.
Copyright © 2007 by Bay City News, Inc. -- Republication, Rebroadcast or any other Reuse without the express written consent of Bay City News, Inc. is prohibited.
####