Newsom exploring fare-free MUNI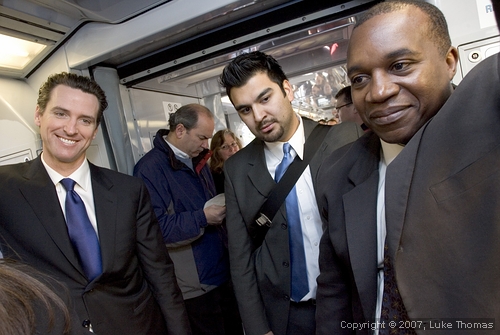 Mayor Gavin Newsom (left) with MTA Director Nathaniel Ford (right) rode the MUNI J-line 3/2/7. Newsom, Tuesday, asked transit authorities to consider the possibility
of a free transit system.
Photo(s) by Luke Thomas
By Tamara Barak, Bay City News Service

March 8, 2007
SAN FRANCISCO (BCN) - Mayor Gavin Newsom on Tuesday said he has asked San Francisco transit officials to explore the possibility of an entirely free, citywide transit system.
"The mayor finds it to be an intriguing idea," his spokesman, Nathan Ballard, said.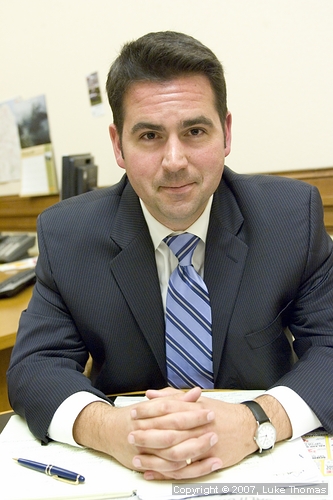 Newsom Communications Director Nathan Ballard
Newsom has asked officials at the Municipal Transportation Agency, which oversees Muni, to analyze the possibility over the next eight weeks and report back to him, Ballard said.
The idea, if it were to become a reality, would make San Francisco the first major American city to offer completely fare-free travel.
"There are some other cities that offer free rides in their downtown areas, but there is no free citywide free transportation that I know of," Ballard said.
The mayor wants to explore whether enforcing against fare evaders and maintaining broken toll boxes cost the city more than simply doing away with fares.
"There are so many costs that accompany collecting fares that it's worth investigating actually giving free bus rides," Ballard said.
Muni spokesman Alan Siegel said that the San Francisco Municipal Transit Agency is reviewing the short-term and long-term financial viability of offering free rides.
"Our goal is to be as creative as possible and analyze all options for increasing revenues, reducing expenses, enhancing service and implementing business process changes and (to) provide the information to policy makers for their consideration. Nothing is off the table," Siegel said.
Aaron Peskin, president of the San Francisco Board of Supervisors, said he had mixed feelings about a possible plan for free rides.
"While it's an intriguing idea, the mayor has laid out a number of ambitious initiatives that are expensive and have yet to come to fruition,"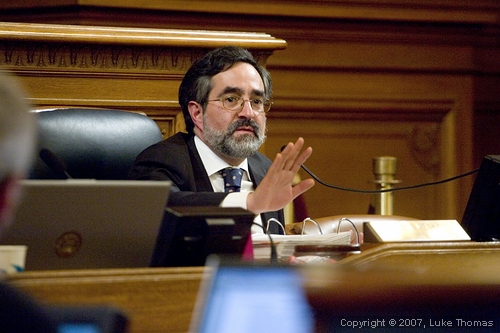 San Francisco Board of Supervisors President Aaron Peskin
Peskin said. He cited 311, the mayor's proposed all-day, every-day government information service, as an example.
"That service is still not up and running and is proving more expensive" than anticipated, he said.
Peskin noted that Muni fare boxes pull in about $140 million a year. Providing free rides could prove expensive, since additional buses and trains would be needed to accommodate increased ridership, he said.
"If we're going to find tens of millions of new dollars, there are basic services that are inadequate. We have the streets of a third-world nation, our library program is over budget and nearly out of money and our neighborhood parks have millions of dollars of deferred maintenance," he said. "Why don't we eat what's on our plate now before we heap more things on it?"
Ballard agreed that offering free transit would require more buses and more operators but said that's one of the things that will be studied.
"We don't have those answers yet. We're just going to have to look into it more before we draw any conclusions whether it'll be a positive or a negative," he said.
San Francisco Supervisor Chris Daly, a vocal critic of the mayor, said he supports the idea of free transit, though it's hardly a new one. Daly pointed out that former Supervisor Matt Gonzalez, who ran against Newsom in the last mayoral election, also raised the idea.
"Like former Supervisor Matt Gonzalez, I've been for the idea of free transit for a long time," Daly said.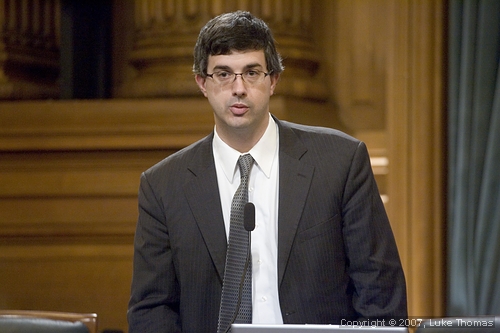 Supervisor Chris Daly
"There is a correlation of making transit free and increasing ridership. It obviously helps deal with congestion, and I think it has the ability to improve the efficiency of transit. You do away with the issue of rear-boarding and you also expedite the time it takes for people to get on the bus."
Daly also praised free transit as "an economic justice issue" that will benefit people who can't afford to drive.
However, he questioned Newsom's motives in bringing up the issue during a re-election year.
"There does seem to be an aspect of opportunism," he said.
Daly said he was surprised by Newsom's support for free transit because the mayor had supported fare hikes in the past.
Copyright © 2007 by Bay City News, Inc. -- Republication, Rebroadcast or any other Reuse without the express written consent of Bay City News, Inc. is prohibited.
####