Feinstein voices breast implant concerns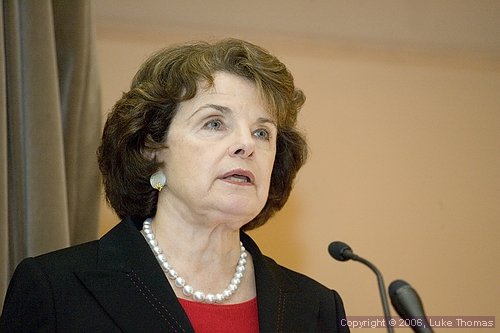 Senator Dianne Feinstein
Photo(s) by Luke Thomas
By Elizabeth Daley, Bay City News Service
November 19, 2006
Sen. Dianne Feinstein, D-Calif., is voicing her concerns to the Food and Drug Administration about its recently lifted ban on silicone breast implants.
Feinstein said Friday that while "the FDA announced this afternoon that it has ended its 14-year ban on silicone gel breast implants and approved products by Allergan and Mentor Corporation," she feels "serious questions remain about the long term safety of these products. The FDA has a responsibility to carefully monitor the health and safety of women who use these implants."
In 1992, the FDA restricted the use of silicone breast implants amid heightened concern about their safety. In a speech, then FDA commissioner Dr. David Kessler highlighted potential risks posed by silicone implants, issued a moratorium on their use, and said;
"There remain troubling questions about the safety of the implants. We owe it to the American public to see to it that these questions are thoroughly investigated."
Last month, Feinstein and Olympia Snowe, R-Maine, addressed a letter to FDA acting commissioner Andrew von Eschenbach, calling for a full review of product testing data before final approval of the Mentor brand implant was granted, citing reports they felt indicated Mentor may have inaccurately reported data regarding potentially dangerous implant leakage.
"The whistleblower has made two key allegations against Mentor. The first is that Mentor's implants used in surgery leak more than the ones used in demonstrations to doctors and patients. If this allegation proves true, women and their doctors will have been intentionally mislead," wrote the senators.
"The second allegation is that there is a design flaw in Mentor's implants which has resulted in a higher rupture rate and that higher rupture rate has not been accurately reported to the FDA."
Feinstien's office reported Friday the senators had not yet received a response to their letter.
Copyright © 2006 by Bay City News, Inc. -- Republication, Rebroadcast or any other Reuse without the express written consent of Bay City News, Inc. is prohibited.
####