Feinstein questions federal safety protocols
in Kim death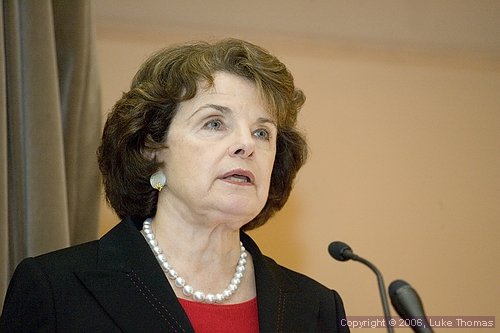 Senator Diane Feinstein
Photo(s) by Luke Thomas
Bay City News Service

January 7, 2007
A Friday letter from U.S. Sen. Dianne Feinstein, D-CA, to the U.S. Secretary of the Interior was intended to call attention to safety protocols on federal roads that might have prevented the death of San Francisco resident James Kim, Feinstein's spokesman Scott Gerber reported.
Kim, 35, died of exposure seeking help after his family became stranded in their car on a Thanksgiving trip in the snowy Oregon wilderness.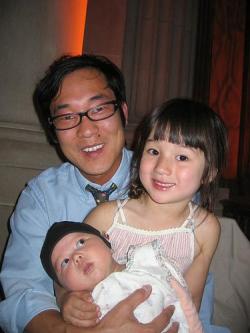 James Kim with daughters Penelope, 4, and Sabine, 7 months.
Photo courtesy Kim family.
According to Oregon police, the family became lost after seeking an alternate route on a rural road.
The road was a Bureau of Land Management road, according to Feinstein's office, that was supposed to have been closed to the public.
In the letter, Feinstein, who is expected to chair the Senate Appropriations Subcommittee on the Interior and Related Agencies, urged Interior Secretary Dirk Kempthorne to investigate whether proper BLM protocols were followed -- specifically whether personnel followed a BLM supervisor's directive to have the road's gate locked.
Feinstein commended BLM personnel's efforts in the search for the Kim family, but added that she is "disturbed by what appears to be a failure to follow instruction and a deviation from agency policy that contributed to cause this incident.''
Other issues Feinstein raised included patrols and signage around the gated area.
According to Feinstein, the Kims' car was the third unintentional entry onto the road in 2006.
Copyright © 2006 by Bay City News, Inc. -- Republication, Rebroadcast or any other Reuse without the express written consent of Bay City News, Inc. is prohibited.

####