Feinstein issues statement
on President Ford's passing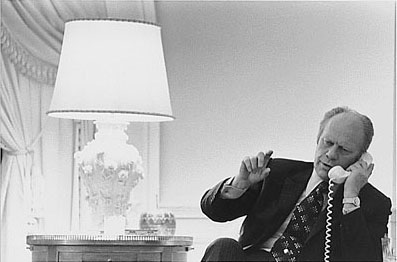 President Gerald R. Ford, RIP, takes a final phone call from then
Secretary of State Henry A. Kissinger, bringing him up to date
on the situation in Vietnam, 4/28/75.
Photo courtesy National Archives and Records Administration
Bay City News Service

December 27, 2006
Calling the former president "a man of distinction, honor and decency," Sen. Dianne Feinstein, D-Calif., released a statement today on the Tuesday evening death of Gerald Ford.
"Gerald Ford did not seek the presidency, but it was thrust upon him. And as he said, he did not 'shirk' those responsibilities. He helped heal the nation and close the wounds of the past," Feinstein said.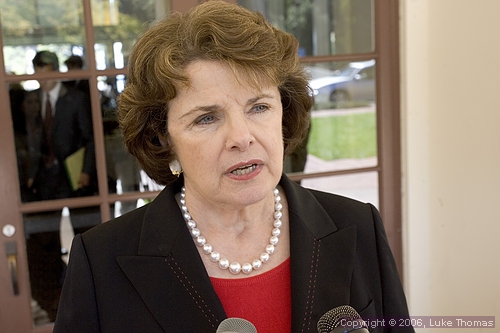 Senator Dianne Feinstein
Photo(s) by Luke Thomas
The senator also offered her condolences to Ford's widow Betty and the Ford family.
"President Ford will be remembered for putting the good of the nation above his own personal, political forums. It is this type of public service that should be a model for all who follow."
Ford, the 38th president of the United States, died at 6:45 p.m. at his home in Rancho Mirage, Calif. His cause of death has not yet been released.
Earlier today, Gov. Arnold Schwarzenegger lamented the loss of Ford, calling him "a man whose integrity, strength of character and commitment to this nation distinguished him as one of our most selfless leaders."
Schwarzenegger said in a statement that Ford devoted his life to public service, "defending this nation in the U.S. Navy during World War II and representing the people of Michigan in Congress for 25 years."
Ford replaced former President Richard Nixon after Nixon resigned following his role in the Watergate scandal.
"In a time of national crisis, America turned to Gerald Ford," said Schwarzenegger, adding Ford "accepted the enormous responsibilities of the presidency during a dark hour in our history, fully knowing the daunting challenge he faced."
Schwarzenegger said, "No man could have been better suited to the task of healing our nation and restoring faith in our government."
According to Schwarzenegger, "President Ford's leadership was marked by his selflessness. He made the most difficult of choices based entirely on what he believed to be in the best interest of his country and its people, the mark of history's greatest leaders.
Schwarzenegger called Ford a "great American" and expressed his family's sincerest condolences to the Ford family saying, "We owe Gerald Ford a debt of gratitude for his unfailing devotion to duty, for always putting his country before himself, and for accepting an extraordinarily difficult task with grace and strength."
Copyright © 2006 by Bay City News, Inc. -- Republication, Rebroadcast or any other Reuse without the express written consent of Bay City News, Inc. is prohibited.

####