Feinstein announces $400,000
to solve unsolved murder cases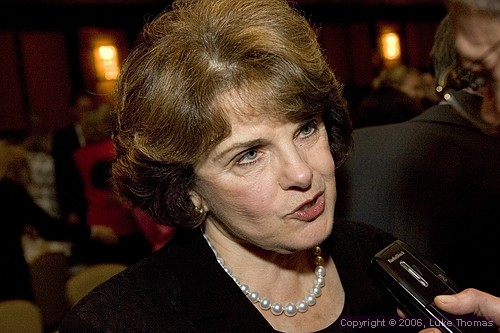 Senator Dianne Feinstein. File photo (5/31/6)
Photo(s) by Luke Thomas
By Brent Begin, Bay City News Service

October 5, 2006
SAN FRANCISCO (BCN) - San Francisco authorities hope a $400,000 federal grant designed to coordinate the city's forensics lab with a statewide DNA database will help solve a number of cases dating back as far as 1968.
U.S. Sen. Dianne Feinstein, D-Calif. joined San Francisco District Attorney Kamala Harris and police Chief Heather Fong in Mayor Gavin Newsom's office yesterday to announce the federal grant, which is earmarked specifically for unsolved cases that have been revitalized through the development of a statewide DNA database.
Called cold cases, the investigations involve mostly murders and sexual assaults in which all leads have been exhausted. Harris said there were at least 61 major cases in the city, while police report that there are hundreds more already logged and ready to be revisited.
Feinstein, who once served as the mayor of San Francisco, said she is really looking forward to the cooperation of the city's two major criminal justice departments.
"It gives the DA and the police department the opportunity to work together on something that can be truly unique and that the limited number of cases really document how DNA can work to bring about the successful prosecution of guilty people who have committed major crimes," Feinstein said.
Harris expressed her excitement and said she is anxious to take advantage of the additional resources to solve serious felonies that happened many years ago.
"Throughout the state, DA's offices and police departments are talking about the fact that we now have this database but where are the resources and where are the programs to now do something and take advantage of all this new evidence that we have," Harris said. "San Francisco is taking the lead in that regard."
Harris also said the district attorney's office is only prosecuting a few of the 61 cold cases estimated by the state Department of Justice to be solvable through DNA testing.
According to Deputy Chief Morris Tabak with the San Francisco Police Department, the city's forensic lab is more than deserving of the federal grant.
Tabak said the lab, located near the Hunters Point naval shipyard, would benefit from the additional resources, which are slated to go toward new technology, staffing, computers and overtime funding.
According to Tabak, who heads the department's special investigations unit, the crime lab has logged plenty of overtime in recent years backlogging more than 700 other unsolved cases.
Many of those cases, including 61 cases mentioned by Harris in today's news conference, have yet to be connected to a criminal, and neither Harris nor Tabak could say how many suspects are still on the streets or are somewhere in the criminal justice system.
But today, both said that the federal grant will help to identify those people and Tabak offered a 33-year-old case as an example of how the work could pay off.
In April, DNA analysis led to the capture of 71-year-old John Puckett. According to police, Puckett is suspected in the 1972 rape and murder of a 25-year-old female nurse.
Police credited technological advancements in identifying Puckett, and the district attorney's office is now using that evidence in the prosecution.
According to Fong, forensics evidence has become paramount in not only putting criminals behind bars but keeping them there as well.
"With shows like CSI ... every juror wants to see forensic evidence," Fong said.
According to Newsom, the mayor's office is also looking forward to multi-agency cooperation in the fight against crime.
"We've got a tremendous opportunity in the criminal justice system to address concerns we have here at City Hall, in the state and across the nation, to apprehend those individuals that have participated in the criminal justice system but that haven't necessarily been connected to a particular crime," Newsom said.
According to Feinstein, the $400,000 grant is good for one year. As for after that, "the city's on its own, unless something changes," she said.
Copyright © 2006 by Bay City News, Inc. -- Republication, Rebroadcast or any other Reuse without the express written consent of Bay City News, Inc. is prohibited.

####