Chief Fong disciplines 35 in SFPD 'Videogate' scandal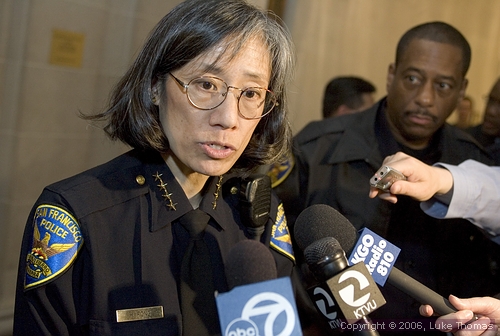 San Francisco Police Chief Heather Fong.
Photo(s) by Luke Thomas
By Brent Begin, Bay City News Service

December 1, 2006
SAN FRANCISCO (BCN) - San Francisco police Chief Heather Fong announced yesterday that 35 officers face disciplinary charges in connection to a series of controversial videos that caused outcry among city leaders.
The announcement culminates an almost yearlong investigation in which 20 Bayview station officers were immediately suspended and then reinstated to administrative positions because of videos that Mayor Gavin Newsom called "outrageous, deplorable and demeaning to the good people that do this (police) work every day."
According to a statement released yesterday, 28 of the 35 officers will receive punishments at the chief's level, which includes any punishment less severe than a 10-day suspension.
The remaining seven will face the San Francisco police commission, which is the only body that has the authority to fire an officer or hand out a long-term suspension. The city charter puts a cap on suspensions at 90 days per charge.
The charges in this case include harassment, discrimination, and violations of the department general orders up to the sergeant's level.
"We are responsible for the safety of everyone in our communities, and there's a time and a place for humor," Fong said in an interview yesterday.
"But there is also a time and a place where it's extremely inappropriate to make light of various communities in our city, and that is not acceptable for me or the department."
Fong said a lawsuit recently filed by Officer Andrew Cohen, the alleged producer of the videos, which claims she and the department have been discriminatory in their investigation, did not play a part in her decision.
"The investigation is concluded at this time and the recommendations for discipline have been made, and so this is the end of one phase," Fong said. "It's now at that stage where the discipline will be meted out or there is an appeal."
Copyright © 2006 by Bay City News, Inc. -- Republication, Rebroadcast or any other Reuse without the express written consent of Bay City News, Inc. is prohibited.

####