San Francisco supervisors torpedo Newsom veto

Mandataory foot patrol legislation passes 9-2
By Emmert Berg, Bay City News Service
November 14, 2006
SAN FRANCISCO (BCN) - San Francisco's Board of Supervisors today turned back a mayoral veto of a policing experiment that supporters say will reduce crime by getting more officers out of their patrol cars.
The board's 9-2 vote means that increased foot patrols will begin citywide early next year.
"This city is hungry for strong public safety leadership," Supervisor Bevan Dufty said.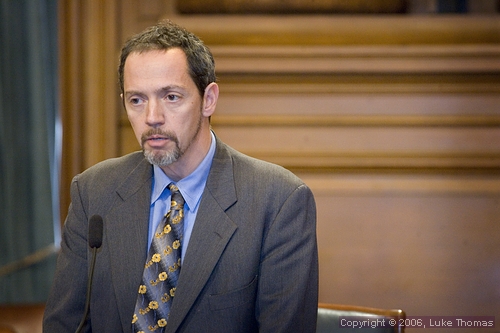 Supervisor Bevan Dufty reiterated his strong support for foot patrols,
and Supervisor Mirkarimi's pilot legislation that mandates police foot patrols
in areas most impacted by violent crime.
Photo(s) by Luke Thomas
"This board is struggling, trying to creatively address problems. We have to step forward because of a leadership gap. It is not a complete answer but it is the best we can do now," he said. Dufty was one of the majority voting to override the veto.
Supervisor Sophie Maxwell represents a district that is home to a high percentage of the city's gun violence.
Maxwell said that people she has spoken to from her district demanded to know what was being done about gun violence.
"I have no choice. I have to do this," said Maxwell, who supported the legislation.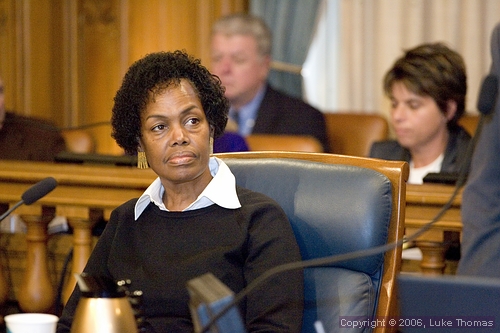 Supervisor Sophie Maxwell
The two supervisors who voted to sustain Newsom's veto were Michela Alioto-Pier and Sean Elsbernd. They argued that policing decisions should come from the mayor and police chief, not the Board of Supervisors.
Copyright © 2006 by Bay City News, Inc. -- Republication, Rebroadcast or any other Reuse without the express written consent of Bay City News, Inc. is prohibited.
####