Photo Essay Extra!
Board of Supervisors overturn Newsom veto
By Luke Thomas
November 15, 2006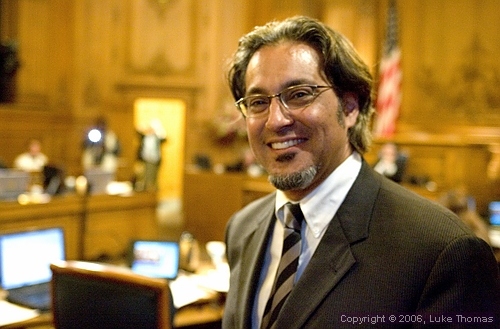 District 5 Supervisor Ross Mirkarimi championed a cause of legislating mandatory foot patrols in areas most impacted by violent crime whlle homicide rates continued to climb under Mayor Newsom's catchy "CitySafe" initiative.
In what eventually became a hot political issue between the mayor's office, the SFPD, and the Board of Supervisors over territory infringement, was resolved yesterday when supervisors voted 9-2 in opposition to Newsom's veto in support of Mirkarimi's legislation.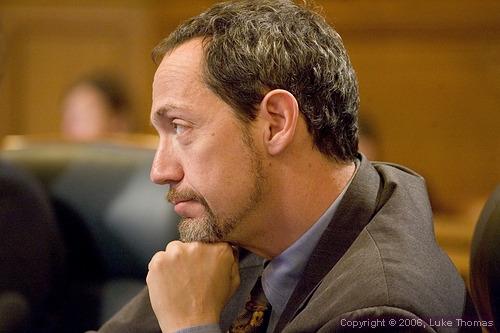 District 8 Supervisor Bevan Dufty was the first to stand before San Francisco and delivered the most impassioned and eloquent speech of all the supervisors who spoke in support of the legislation.
Dufty overcame blind loyalty to Room 200 on principle and with conviction.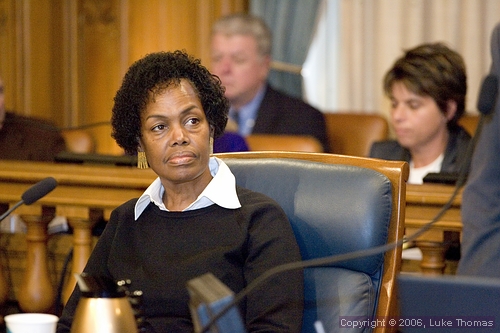 District 10 Supervisor Sophie Maxwell told Fog City Journal Monday, "I rarely change my vote, but you never know."
Maxwell did not change her vote yesterday.
Maxwell's district routinely experiences disproportionate levels of bloodshed. Constituents continually plead for increased police presence to help deter violent crime and to return the streets of San Francisco to law abiding citizens.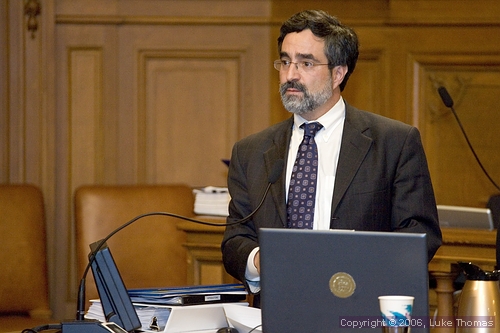 District 3 Supervisor Aaron Peskin initially voted against the legislation when first approved by the Board of Supervisors. Peskin surprised observers by switching his vote in support of the legislation by voting against the veto.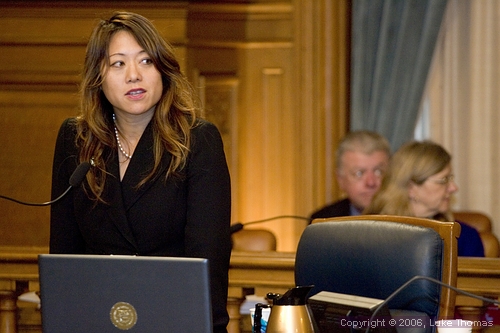 An undecided Supervisor Ma on Monday stood in support of the legislation and voted against the veto.
Ma will be heading to Sacramento in December to be sworn in as California's District 12 Assemblymember.
Look for Assemblymember Ma to help secure state funding for all things San Francisco public safetly related.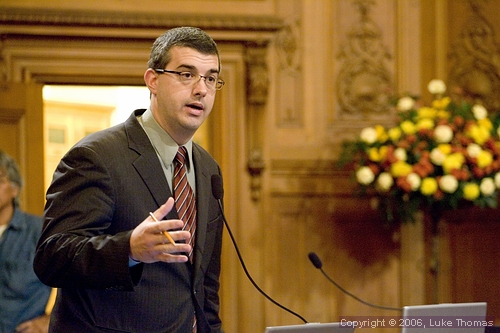 District 6 Supervisor Chris Daly's district includes the Tenderloin where street drug activity is rampant and operates without sleep and with impunity.
Homicide rates closely parallel drug related activity. When cops walk the beats, drug dealers disappear. When drug dealers disappear, homicide rates decline.
District 9 Supervisor Tom Ammiano represents a district where increased gang activity has resulted in increased street decoration in the form of funeral shrines.
Ammiano sat on the special Gang and Gun Violence Committee with Mirkarimi and Maxwell. They heard the testimony from the many mothers and fathers of slain sons and daugthers who came to city hall to tell their painful stories and to plead with supervisors to help end the bloodshed.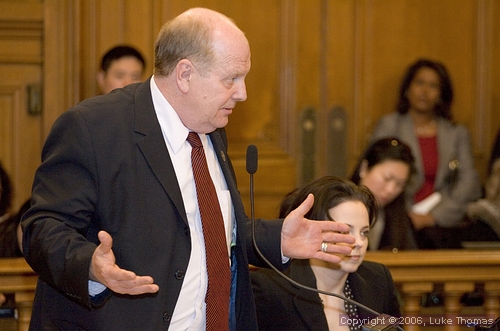 District 1 Supervisor Jake McGoldrick was pegged as a possible swing vote by Newsom devotee hopefuls but voted against the veto on principle.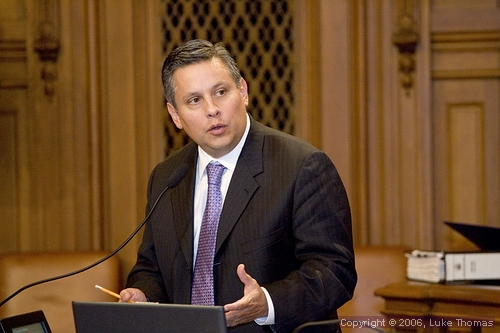 District 11 Supervisor Gerardo Sandoval voted against the veto.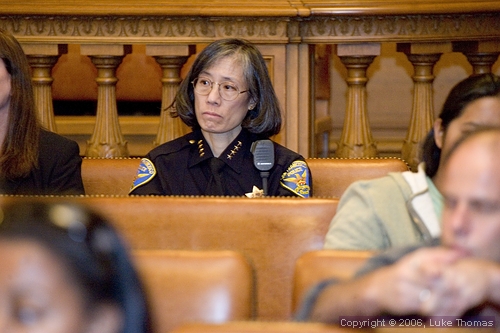 Chief Heather Fong sits alone in the back of San Francisco's hallowed chambers as the votes cast a veil of disapproval over city establishment leadership efforts to stem violent crime.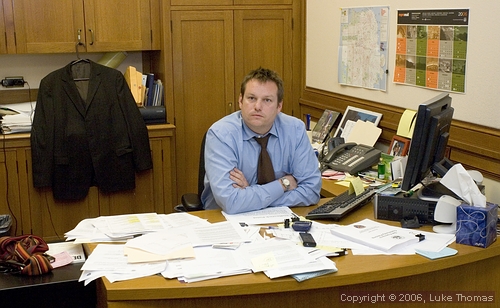 Mayor's Office of Communications Director Peter Ragone with kleenex tissues at the ready. It's been a tough couple of weeks for our 42nd Mayor, but it is flu season and Newsom will recover, perhaps better attuned now to the city's cry for real and effective community policing.
####