Feinstein introduces 'Football Fan Protection Act'
Motivated by 49ers move to Santa Clara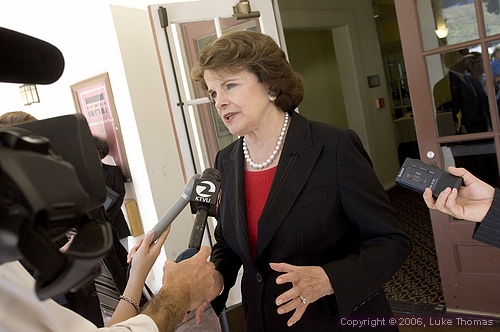 Senator Dianne Feinstein.
Photo(s) by Luke Thomas
Bay City News Service

January 11, 2007
SAN FRANCISCO (BCN) - Saying that professional football teams are "more than just businesses,'' U.S. Sen. Dianne Feinstein, D-Calif., introduced legislation today that would involve the National Football League in teams' decisions to relocate.
Feinstein said she was motivated to introduce the "Football Fan Protection Act'' after the San Francisco 49ers announced in November that the team could move to Santa Clara.
"This legislation is designed to slow the movement of NFL teams and prevent communities from suffering the financial and intangible costs of these moves,'' Feinstein said in a statement. "Our football teams are more than just businesses. They are a common denominator that cuts across class, race and gender to bond the people of a city. They are a key component of a city's culture and identity.''
Feinstein said the bill would require NFL approval for any team move, under a limited antitrust exemption. She compared it to an exemption Major League Baseball uses and noted that one baseball franchise has moved in the last 25 years, compared to seven NFL teams in the same period.
The bill was recorded as the "Football Fairness Act,'' No. 249, and referred to the Senate Judiciary Committee, on which Feinstein serves.
Copyright © 2006 by Bay City News, Inc. -- Republication, Rebroadcast or any other Reuse without the express written consent of Bay City News, Inc. is prohibited.

####