California supreme court ruling reaffirms consitutional free speech protections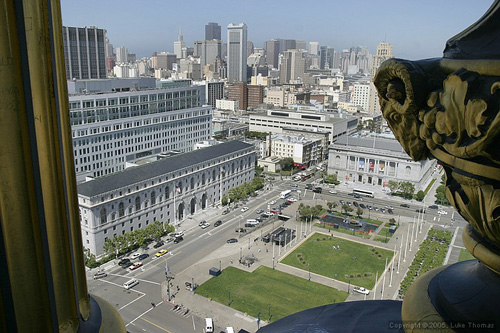 Photo(s) by Luke Thomas
By Julia Cheever, Bay City News Service
November 20, 2006
SAN FRANCISCO (BCN) - The California Supreme Court ruled today that people who use the Internet to post information that originated from another source can't be sued for defamation in the republished information.
The court said unanimously that the federal Communications Decency Act of 1996 protects Internet users from being held liable for information that is republished from another source.
Justice Carol Corrigan wrote for the court, "By declaring that no 'user' may be treated as a 'publisher' of third party content, Congress has comprehensively immunized republication by individual Internet users."
The court said the law "serves to protect online freedom of expression and to encourage self-regulation, as Congress intended."
The ruling was issued in San Francisco in a lawsuit filed in Alameda County Superior Court by two Canadian doctors against a women's health activist, Ilena Rosenthal.
Lower courts dismissed claims against one of the doctors, but a state appeals court said the other physician, Terry Polevoy, could sue Rosenthal for allegedly defaming him by posting a comment in which a third person accused him of stalking a Canadian radio producer.
The state high court said that under the federal law, Polevoy could sue only the original source of the statement and not the person who posted it.
The panel said that "recognizing broad immunity for defamatory republications on the Internet has some troubling consequence," but said it would be up to Congress to make any changes.
Civil liberties advocates had argued that holding Rosenthal responsible would have far reaching effects in harming free speech on the Internet, while Polevoy contended he should be entitled to protect his good name.
Electronic Frontier Foundation attorney Kurt Opsahl said, "We're delighted with this ruling. It reaffirms protections for free speech."
Copyright © 2006 by Bay City News, Inc. -- Republication, Rebroadcast or any other Reuse without the express written consent of Bay City News, Inc. is prohibited.
####