City Attorney files suit
against four San Francisco gangs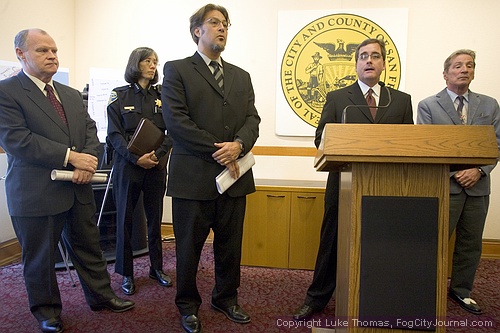 CIty Attorney Dennis Herrera is joined by Sheriff Michael Hennessey, Police Chief Heather Fong, Supervisors Ross Mirkarimi and Tom Ammiano at a City Hall press conference Thursday to announced the filing of injunctive civil complaints against four San Francisco gangs in an effort to curb gang violence and to return San Francisco's violence-plagued streets to law abiding citizens.
Photo(s) by Luke Thomas
By Tamara Barak

June 22, 2007
San Francisco City Attorney Dennis Herrera Thursday filed lawsuits against four criminal street gangs in the violence-plagued Western Addition and Mission districts.
The civil complaints mark the beginning of a process in which Herrera will seek out injunctions to bar known gang members from associating with each other, loitering or engaging in nuisance behavior within neighborhood "safety zones."
"San Francisco is witnessing an explosion in gang violence and our neighborhoods are caught in the crossfire," Herrera said.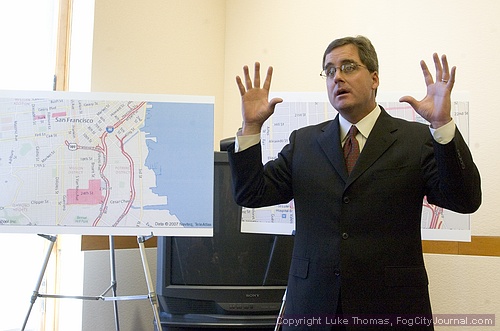 City Attorney Dennis Herrera
Civil gang injunctions have proven effective at deterring crime both in San Francisco and other cities like Los Angeles and San Jose, Herrera said.
In November, a judge granted Herrera's motion for the city's first-ever civil gang injunction against the Oakdale Mob, a violent criminal enterprise that had operated in the Bayview Hunter's Point area for more than a decade.
That injunction has resulted in a 75 percent reduction in police calls to the protected area, Herrera said.
The lawsuits filed Thursday would target the Western Addition-based Eddy Rock, Chopper City and Knock Out Posse gangs and the Mission-based Norteno gang.
Herrera said the Western Addition gangs are suspected of committing the rash of shootings that have left one dead and 12 injured since May 18.
The proposed safety zone for the Knock Out Posse and Chopper City gangs include a six block area north of Turk Street to Ellis Street, between Divisadero and Steiner streets.
The safety zone for the Eddy Rock gang is a four-block area that also lies north of Turk to Ellis streets and is bordered to the west by Webster Street and to the east by Gough Street.
The Nortenos, a nationally recognized violent street gang with an estimated 300 members in San Francisco, claim a large portion of the southeastern Mission District as its turf, Herrera said. Police say there have been 18 murders since 2004 in which Nortenos were involved. Last weekend, a 15-year-old boy was shot and killed in Norteno territory at 24th and Harrison streets.
Herrera's proposed safety zone would cover an area north of Cesar Chavez Street between Valencia Street and Potrero Avenue. Police estimate there have been 59 assaults - 55 of them involving weapons - involving Nortenos within the proposed zone since 2005.
Civil injunctions are critical in securing neighborhoods where violence has become an epidemic, Herrera said.
"This is not a panacea, but it is a tool meant to complement other services," he said.
But not everyone is happy about Herrera's plan. Daniel Landry, 38, founded the Western Addition gang KOP that Herrera refers to as Knock Out Posse, but Landry says is called Kings Original.
Landry has since given up gang life and is now the executive director of the African American Community Police Relations Board. Landry said the proposed injunctions raise serious civil liberty concerns. He said he worries that his old "KOP" tattoos will automatically make him a target for an overzealous gang task force emboldened by the injunctions.
"We cannot allow this city to violate people's constitutional and civil rights in the name of fighting crime," Landry said.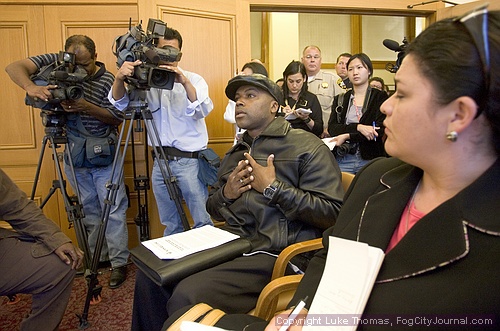 Daniel Landry (center)
Herrera claims the injunction will only affect those whose gang ties have been documented recently.
Landry said that innocent people in the Western Addition already feel harassed by police, and worries that the measure will contribute to the trend of black San Franciscans leaving the city.
"I don't think moving young African American men out of the city is good for the city family," he said.
Landry said the proposed injunctions thwart a peace plan his organization has been trying to implement.
"We think the city is dropping the ball on this," he said.
Copyright © 2007 by Bay City News, Inc. -- Republication, Rebroadcast or any other Reuse without the express written consent of Bay City News, Inc. is prohibited.
####