Gap, Inc. gaps out Forth & Towne line
Restructuring will cost $40 million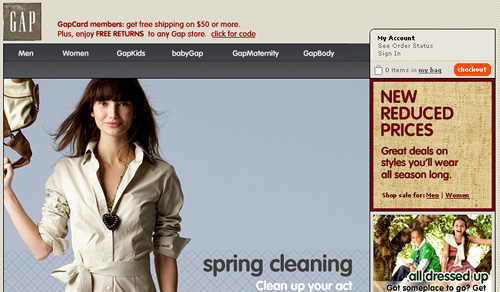 Screen shot courtesy Gap.com
By Brent Begin, Bay City News Service

February 26, 2007
SAN FRANCISCO (BCN) - San Francisco-based Gap Inc. announced today they plan to shut down Forth & Towne, an apparel concept geared toward women over 35 years old.
The company plans to close 19 stores throughout the U.S., which would affect 550 employees. Interim president and CEO Bob Fisher said despite initial successes, the clothing brand was not making money fast enough to recoup its initial investment.
"Forth & Towne was a great test of a promising concept and an illustration of the innovative risks you need to take in our business," Fisher said in a statement. "We made the tough decision to close the brand and focus our efforts on stabilizing the existing businesses."
Store closures are expected to be completed by the end of 2007 and is estimated to cost around $40 million, according to the company. Forth & Towne was first rolled out in August of 2005. The company also announced it will attempt to place affected employees in other brands, which include Old Navy, Gap and Banana Republic.
"I want to thank the talented Forth & Towne for their hard work in bringing this brand to life," Forth & Towne President Gary Muto said in a statement.
The closure of Forth & Towne is only one of several major changes hitting Gap Inc. recently. Poor earnings prompted the company to search for potential buyers earlier this year and less than a month ago, Paul Pressler stepped down as CEO.
Copyright © 2007 by Bay City News, Inc. -- Republication, Rebroadcast or any other Reuse without the express written consent of Bay City News, Inc. is prohibited.

####