Law enables elections activity at hotels for poor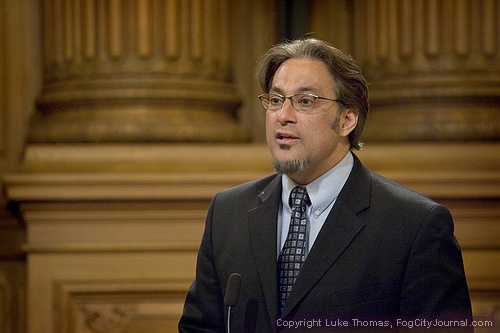 San Francisco legislators today approved an ordinance sponsored by District 5 Supervisor Ross Mirkarimi allowing get-out-the-vote workers access to residents of single-room occupancy hotels.
Photo(s) by Luke Thomas
By Emmett Berg
August 14, 2007
An ordinance given preliminary approval at the Board of Supervisors today allows get-out the-vote workers easier access to the largely poor residents of single-room occupancy housing, for the distribution of handbills and arranging rides to polls.
The law still requires finalizing via a second vote of the board, as well as Mayor Gavin Newsom's signature.
Today's 7-3 initial vote followed a debate in which Supervisor Ross Mirkarimi, who sponsored the ordinance, defended it against colleagues who labeled it an invitation to disorder at the hotels. The phrase "single-room occupancy" indicates occupants living in single rooms with shared kitchens and bathroom facilities.
Supervisor Sean Elsbernd said allowing not only residents but also guests of residents to be able to provide access to political workers was a bad idea.
"It elevates the rights of guests above other residents," Elsbernd complained. But his and the votes of Ed Jew and Michela Alioto-Pier were the only supervisors opposed to Mirkarimi's law.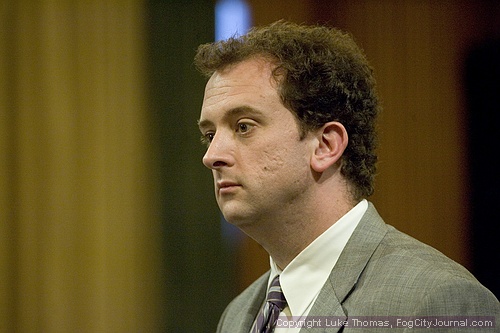 Supervisor Sean Elsbernd
"Are we inviting a tsunami of uninvited guests? The answer is no," Mirkarimi said.
The rules governing political electioneering at single-room occupancy hotels - where many residents are recipients of public assistance - do not apply to ordinary apartment or condo dwellers in the city. In such privately owned dwellings election workers must receive entry approval from each resident they visit.
Copyright © 2007 by Bay City News, Inc. -- Republication, Rebroadcast or any other Reuse without the express written consent of Bay City News, Inc. is prohibited.
####