Minnesota bridge collapse
prompts safety assurance of Golden Gate Bridge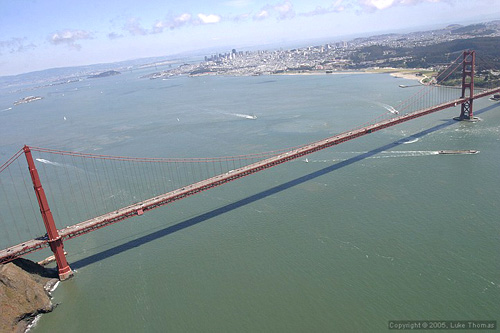 In the wake of Wednesday's total bridge collapse in Minnesota, officials in San Francisco provided assurances of the Golden Gate Bridge' structural integrity.
Photo(s) by Luke Thomas
By Ari Barack
August 3, 2007
In the wake of Wednesday's deadly bridge collapse in Minnesota, a Golden Gate Bridge spokeswoman yesterday gave reassurances that the event has little bearing on the structural integrity of the Bay Area's treasured landmark.
The arch truss bridge that collapsed over the Mississippi River is completely different than the Golden Gate Bridge's long-span suspension design, according to spokeswoman Mary Currie.
"The two (bridges) have nothing in common," Currie said. "Certainly we're concerned about earthquakes," as well as wind conditions and corrosion damage from fog, she added.
"In order to ensure the structural integrity of the span" the bridge has an ongoing maintenance program to work on corrosion protection, Currie said.
In addition to day-to-day maintenance, the bridge has undertaken several efforts over the past decades to ensure its stability and safety, according to Currie.
Along with replacement of the bridge's vertical suspender ropes in the 1970s, and replacement of the deck of the bridge in the 1980s, the bridge began a $460 million seismic retrofit project in 1997, which is expected to last another six to eight years, Currie said.
So far, the bridge's north and south approach viaducts have been retrofitted, while work on the bridge's main span and main towers are still yet to be completed.
According to Currie, restoration of the two main cables that go on and over the towers could begin later this year.
"Between all of those projects, the bridge is in good shape," Currie said.
Copyright © 2007 by Bay City News, Inc. -- Republication, Rebroadcast or any other Reuse without the express written consent of Bay City News, Inc. is prohibited.
####