Golden Gate Bridge to become
Safety Awareness Zone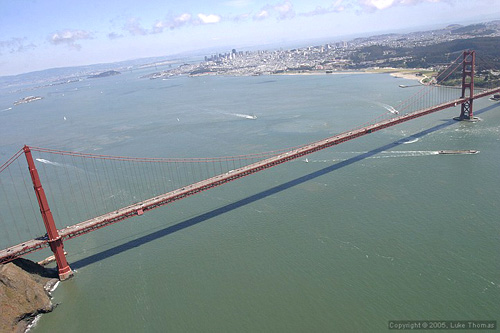 Photo(s) by Luke Thomas
By Jeremy Lipps, Bay City News Service

December 31, 2006
The Golden Gate Bridge will hopefully be a little safer after Monday, when a new Senate bill goes effect that guarantees the consideration of public input regarding bridge safety decisions.
Sen. Carole Migden, D-San Francisco, sponsored the bill, which will not only raise awareness on the Golden Gate Bridge but also on other dangerous roads that Migden believes only locals can provide critical insight into, Migden's office reported.
The Golden Gate Bridge will automatically become a Safety Awareness Zone under the new law, which will also provide local California governments the opportunity to declare other dangerous roadways the same, said Hallye Jordan, a spokeswoman for Migden.
Safety Awareness Zones will include enhanced traffic fines and could include more signs to warn drivers of the greater dangers of such roads, Jordan said.
"We all know crossing the Golden Gate Bridge can be like racing through pea soup with oncoming traffic ready to hit you,'' Migden said in a statement. "We have a lot of dangerous driving spots in California and this measure is going to result in better safety and saved lives in the places that need it most.''
Gov. Schwarzenegger signed senate Bill 988 into law Sept. 29.

Copyright © 2006 by Bay City News, Inc. -- Republication, Rebroadcast or any other Reuse without the express written consent of Bay City News, Inc. is prohibited.

####