San Francisco defends tax money from Giants ballbark owners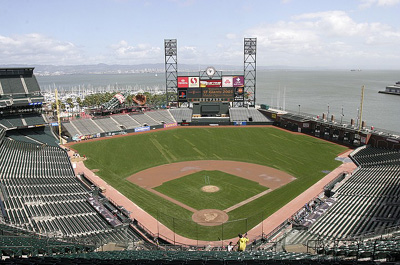 Photo(s) by Luke Thomas
By Elizabeth Daley, Bay City News Service
November 2, 2006
SAN FRANCISCO (BCN) - More than $3.9 million dollars in tax revenue from China Basin Ballpark Co. LLC was defended for San Francisco Wednesday when the Assessment Appeals Board approved a settlement based upon a reassessment of the ballpark's property value.
The appeals board approved a settlement between the city and county of San Francisco and the Giants ballpark owners declaring that AT&T Park was worth $345 million more than ballpark owners declared over a six-year time period.
Kevin Matthews, spokesman for Ting, said that the appeals board allows property owners to contest property values if they feel they are being unfairly taxed.
Matthews said ballpark owners challenged the initial property value attributed to the ballpark, which resulted in a devaluation of the property. Matthews said that devaluation was then challenged by the Assessor-Recorder, resulting in an eventual settlement between the city and the ballpark for tax years 2001 to 2006.
"The settlement that the AAB approved today is fair and equitable to the Giants and to the taxpayers of San Francisco. This settlement underscores my commitment to fight for every tax dollar in jeopardy," said Assessor-Recorder Phil Ting, who is running for re election.
While the China Basin Ballpark Co. will still be receiving a check for approximately $6 million from the city of San Francisco based upon their initial property reevaluation, according to Matthews, Ting's office reports Ting's "challenge to the AAB ruling in Superior Court resulted in the successful defense of $345 million in disputed valuation and preserved nearly $4 million in disputed tax revenues."
Copyright © 2006 by Bay City News, Inc. -- Republication, Rebroadcast or any other Reuse without the express written consent of Bay City News, Inc. is prohibited.
####