Giuliani supports early California presidential primary
"California is a state that you could regard as a microcosm
of the United States"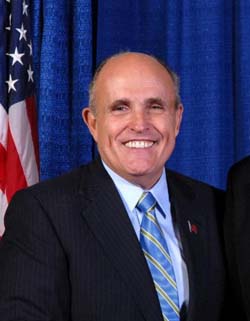 Republican presidential candidate Rudy Giuliani
By Jason Bennert, Bay City News Service

February 12, 2007
SANTA CLARA (BCN) - Former New York City mayor Rudy Giuliani said today that he is "100 percent'' running for president and he thinks California is a great place to have an early presidential primary.
Giuliani told a lunchtime crowd of approximately 500 Silicon Valley business and technology leaders that he is in the race for the Republican nomination to succeed President George W. Bush even if he has not made a formal announcement yet. He joked that he would probably make his formal announcement in "100 different places,'' to get the maximum amount of media attention.
Following his speech to the Churchill Club, Giuliani told reporters that he thinks California should move its presidential primary from June to February 5, as Gov. Arnold Schwarzenegger and legislative leaders have proposed.
"California is a state that you could regard as a microcosm of the United States,'' Giuliani said.
Candidates campaigning in California would have to address issues of national concern that the might not have to in smaller states, Giuliani said.
Giuliani praised Schwarzenegger, calling him a "progressive leader.''
"I generally agree with Governor Schwarzenegger,'' Giuliani said.
Giuliani spoke without notes, or the use of a teleprompter, for more than 40 minutes to the Churchill Club and then took several questions from Red Herring founder Tony Perkins. He received standing ovations from the crowd at both the beginning and end of his talk.
Giuliani, who served as New York City mayor from 1993 to 2001 and gained international fame and praise for his stewardship of the city following the terrorist attacks of Sept. 11, 2001, devoted much of his speech to terrorism and the war in Iraq. He supports a continuing the war in Iraq until the country stabilizes.
"Having a stable situation in Iraq is going to quicken our defeat of terrorism,'' Giuliani said.
Achieving energy independence from countries like Venezuela or those in the Middle East is a "national security issue,'' Giuliani said.
Giuliani told reporters he does believe in the phenomena of global warming and he told the Churchill Club audience that the next great business opportunity is in the area of green technologies.
In addition to talking about national security issues Giuliani also talked about two issues that polls have found are especially important to California voters: health care and immigration.
The nation's current system of health care is "imperfect'' but a single-payer system, such as found in Europe and Canada, is not the way to improve it, according to Giuliani.
"We (need to) build it based on private insurance, competition, markets,'' Giuliani said.
Giuliani noted that even with the current "imperfect'' health care system stories of residents from Europe, Canada and other countries coming to the United States for state-of-the-art medical treatment are common but stories of American's traveling to other countries for medical treatment are rare at best.
On immigration, Giuliani said while the country needs to ensure that terrorists, drug dealers and other criminals are not entering the country we should not be driving law-abiding immigrants away.
"The worst problem would be . . . if you're the country that nobody wants to come to,'' Giuliani said.
Copyright © 2007 by Bay City News, Inc. -- Republication, Rebroadcast or any other Reuse without the express written consent of Bay City News, Inc. is prohibited.

####