Environmental groups sue Bush administration
for global warming reporting deficiency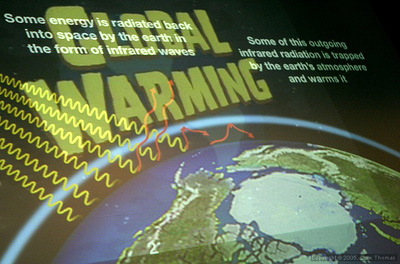 Photo(s) by Luke Thomas
By Julia Cheever, Bay City News Service
November 14, 2006
SAN FRANCISCO (BCN) - Three environmental groups sued the Bush administration in federal court in San Francisco today for allegedly failing to complete a congressionally required report on global warming.
The lawsuit says a law passed by Congress in 1990, the Global Change Research Act, requires the government to issue a national assessment every four years on the impact of global warming on the U.S. environment, economy, human health and human safety.
The last assessment was issued in 2000 and another report was due in November 2004, the lawsuit says.
Danielle Fugere, a spokeswoman for Friends of the Earth, said, "Unfortunately, the Bush administration has not complied with the law, nor has it been truthful with the American people or the world about the science of global warming."
The plaintiffs in the lawsuit are Friends of the Earth, the Center for Biological Diversity and Greenpeace.
The defendants are three executive agencies: the U.S. Climate Change Science Program, the U.S. Office of Science and Technology and the Federal Coordinating Council on Science, Engineering and Technology.
The lawsuit, which was assigned to U.S. District Judge Saundra Armstrong of Oakland, seeks a court order requiring the agencies to complete the assessment.
The lawsuit alleges, "Global warming is one of the most serious threats facing humanity today."
It maintains the four-year assessment is needed to enable federal agencies and branches of government to be fully informed in developing policies and actions on global warming.
Kent Laborde, a spokesman for the U.S. Climate Change Science Program, said the agency could not comment specifically on a pending lawsuit.
But Laborde said, "We are advancing the body of scientific information on global climate change and the program is producing decision support material for the use of policy makers."
Copyright © 2006 by Bay City News, Inc. -- Republication, Rebroadcast or any other Reuse without the express written consent of Bay City News, Inc. is prohibited.
####